A heart shaped face is considered one of the most attractive face shapes out there. Many women appreciate heart shaped faces in men as these faces tend to have the most attractive features. Conversely, having great facial features doesn't mean you can pull off just about any beard style.
There are only a couple of beard styles that suit the heart shaped face. If you choose to wrong, your only option might be to get a razor and shave everything off. Thankfully, things don't have to be that dire, especially when following the steps in this article.
However, before we begin highlighting the best beard for a heart shaped face, it is essential to discuss what a heart shaped face is.
What Is a Heart Face Shape?
A heart shaped face has a wider forehead than the jawline and cheekbones. The jaw narrows downwards, ending in a rounded chin instead of a point. The heart shaped face can be seen as a combination of a triangle and round shaped face. Nevertheless, the heart shaped face can also be considered as an inverted triangle as the wide forehead narrows down to the chin, jaw, and cheeks. The heart shaped face is round and soft.
What Beard Will Work For A Heart-Shaped Face?
Since the heart shaped face comes with a narrower chin and cheekbone, you will need to get a beard that defines the bottom half of your face. The beard needs to emphasize your narrow facial features. You can style your beard to angle the chin without overwhelming the jawline. With this, you must keep the beard short of matching the width of your cheekbones.
Best Beard For A Heart Shaped Face
Chin Beard
The chin beard consists of facial hair or a goatee grown on the chin. What's unique about this beard style is that you don't have to connect your beard to the mustache.
By design, the chin beard typically has hair below the lower lip. Moreover, this beard can make your chin look as wide as your mouth. For this reason, the chin beard is one of the best beards for a heart-shaped face. 
Balbo Beard
The Balbo beard is a great style for those with a heart-shaped face as it shares similarities with the short boxed beard. This beard style doesn't come with sideburns; you get a floating and trimmed mustache. This design makes your beard and mustache very distinguishable. It can be a great way to take the attention off your narrow and small chin.
Circle Beard
The circle beard comes with a mustache that connects directly to the beard. That being said, it does help maintain a shave around. Grooming it can help provide you with precise edges. Nevertheless, if you choose to grow it out, it can give your face a softer look. The circle beard has two variants, with the first providing you with a connected beard and mustache. The second variant is extended as it connects your mustache to the beard.
Stubble Beard
The stubble beard can be a wonderful style, giving you a rugged look. The great thing about this beard style is that you don't have to grow a full beard before hiding your chin. Also known as the three-day stubble beard, it is shaved facial hair that grows back after a couple of days. Think of it as a cross between a short beard and a clean-shaven face. This ideal beard style helps enhance your facial features and define your jawline while creating a masculine look.
Classic Full Beard
The classic full beard can be as short as 2 inches and as long as 6 inches. It comes with a tightly trimmed mustache and minimal shortened sides. As a natural-looking style, it can help you hide your narrow chin. It also helps your face look more proportionate, eradicating the inverted triangle heart-shaped face it is typically known for.
Short Boxed Beard
The short boxed beard, also known as a corporate beard, consists of a tidy, sharp cheek with a different neckline that is relatively short (half an inch). There are two types of short-boxed beards, namely, the low-boxed beard and the high-boxed beard. The short-boxed style lets you keep at least half an inch to one inch lower than your cheek-line beard. The high-boxed variant gives you more freedom, as you can grow the cheek-line beard as high as you want. Both variants can help emphasize your chin, making it look wider than usual.
Hollywoodian Beard
The Hollywoodian is a beard that comes with a fully extended goatee. Typically the ideal length of this beard is just an inch, beginning just above your jawline and extending to the edge of your jaw before stopping under your ears.
The Hollywoodian beard is perfect for those that want to wait to grow their beards for months before they can style it. You can use this style to take attention away from your narrow chin while highlighting the width of your cheekbone. The sideburns and the upper cheeks are clean-shaven, ensuring your chin and jawline have a simple definition.
Garibaldi Beard
General Giuseppe Garibaldi, the late Italian general, inspired the Garibaldi beard. It is a minimal, low-trimmed beard that suits the heart shaped face perfectly. This type of beard helps to highlight your jawline, making it look as wide as your forehead. It can help effectively balance your face, ensuring it remains well-proportioned. Nevertheless, growing this type of beard can take quite a while. You must also grow your beard for at least eight months before you can shape it
Also, you need at least 4 inches of length to get this beard. You should also note that facial hair typically grows half an inch per month. That means growing the Garibaldi beard is a waiting game.
For more Historical Beard Facts, check out our in-depth post.
Best Beards for Heart Shaped Faces – Wrap-up
Regardless of your type of face shape, various beard styles will brighten your face and give it a manly look. This article explored several best beards for heart-shaped faces you will love.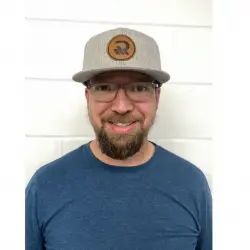 Latest posts by Doug Wells
(see all)