David Beckham, one of the most handsome and successful soccer players in the world, is also known for his different beard styles that women adore. Besides being a soccer player, Beckham is also a model, entrepreneur, and synonym for fashion. In this article, we will discuss David Beckham with a beard and his beard styles, and explain how you can achieve a similar type of beard as beckham.
David Beckham Beard Length
As you might have noticed, most beard styles that David Beckham has worn include a shorter beard. He did have a long beard at some point, which we will mention later in the text, but he usually wears a shorter beard, no matter the style. It also means that if you want to achieve any of these David Beckham beard styles, it won't take long.
David Beckham Facial Hair Styles
You have probably noticed that David Beckham is not afraid to try new things. He is a handsome man and all beard styles fit him perfectly. Let's take a look at the different styles that he has worn over the years!
David Beckham Beard Style Names
Maybe you would like to look like David Beckham with a beard. I can only help you with the beard part but David Beckham has great taste in beard styles.
Here are a few of the most popular beard styles David Beckham wears. David Beckham's beard style names may vary but these are the names given to the styles I found online. 
David Beckham's Patchy Beard
Most people who want to grow a beard have a problem because their beard is patchy. However, as you can see, even David Beckham had a patchy beard at some point, and it didn't look bad at all. 
Growing a David Beckham patchy beard is very simple because all you need to do is let your beard grow for a couple of days. If you don't want a patchy beard, don't worry; in most cases, letting your beard grow for 2-3 months will solve the problem.
David Beckham's Stubble Beard
A stubble beard is something between a clean-shaven look and a short beard. There are three categories of stubble beard, which are light, medium, and heavy stubble. It is the most stylish beard style of all time, which many celebrities have worn, including David Beckham and even Jason Momoa.
Getting a David Beckham stubble beard is not complicated. You just need to let your beard grow and trim it as necessary. However, if your beard is longer than 4-5mm, it is considered a short beard. Note that having a high-quality trimmer will make your life much easier.
This is the beard trimmer that I use for a finishing trimmer. It works great, has a long battery life, and feels great in my hand as I trim my beard.
David Beckham's Short Beard
No matter how many beard styles have Beckham worn, short and stubble are definitely his main styles. A little longer than stubble, a short beard is usually between 5 and 8 millimeters long. As a rule of thumb, a short beard is a little longer than stubble and a bit shorter than a long, bushy beard.
Achieving a David Beckham short beard is not complicated, but you will need to wait slightly longer than for a stubble. For most trimmers, you will need to use guard 1 or 2 for stubble and 3 or 4 for a short beard.
David Beckham's Long Beard AKA David Beckham's Full Beard
Maybe you've never seen David Beckham with a full beard, but he actually lets it grow from time to time. It's not a beard like Dan Bilzerian has, but it is still a long beard. The only area he doesn't have facial hair is his soul patch, but most men struggle to develop hair in that area.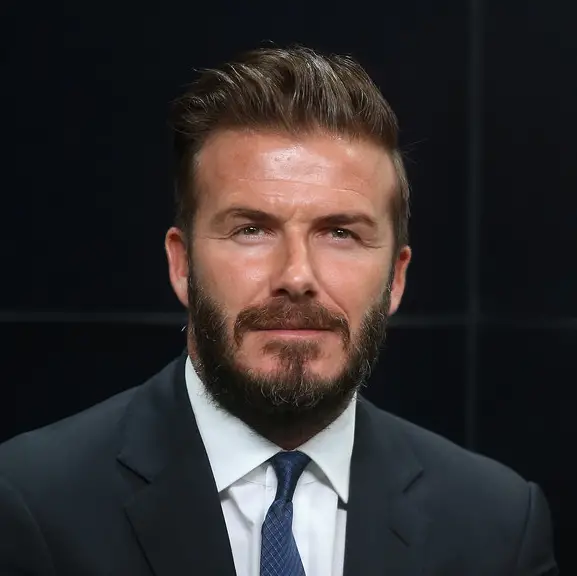 Growing a long beard can be a bit difficult for some people, but it mainly depends on genetics. You need to be patient because it might take 4-5 weeks if you are clean-shaven. Also, you might encounter common problems such as itchiness and dandruff, but don't let these problems prevent you from growing a David Beckham full beard.
David Beckham's Mustache and Beard
Beckham almost never wears a mustache only, but we've seen him many times with a short beard and bushy mustaches. It is not difficult to achieve, and according to many types of research, women find mustaches masculine.
You simply need to achieve a short beard or stubble, and then continually trim the beard to keep the same length, while letting mustaches grow. However, you might need to use scissors now and then if you don't want your mustache to be all over your upper lip.
David Beckham's Goatee Beard
A goatee is a very specific and noticeable type of beard. There are different variations, but a traditional goatee requires a mustache and facial hair on the chin and below the lips. Sometimes, Beckham also wears a type of goatee known as a Van Dyke beard.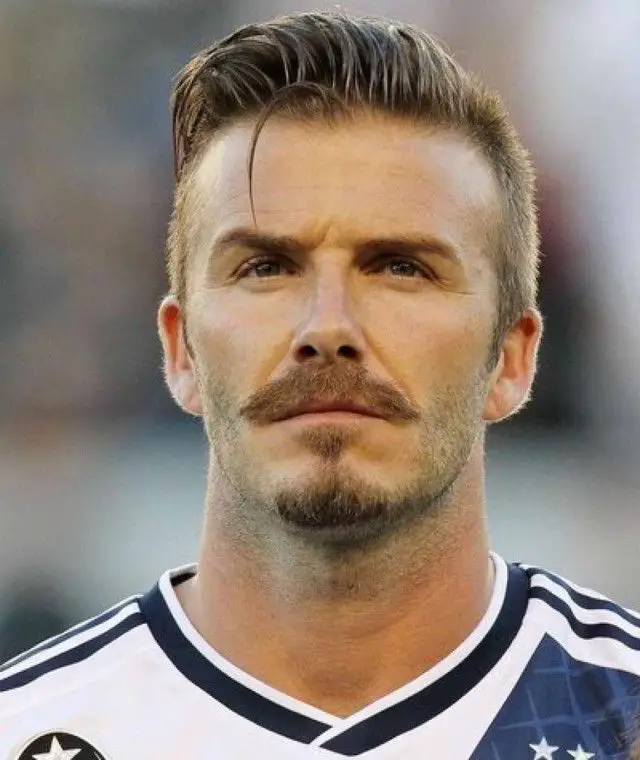 The difference between the David Beckham goatee style and a traditional goatee is that mustache is not connected to the rest of the facial hair. Also, the Van Dyke goatee includes a handlebar mustache, but it is optional and up to you.
David Beckham's goatee beard is also suitable for people who have a patchy beard and find it difficult to achieve a stubble or a short beard.
David Beckham's Anchor Beard
David Beckham also wears an anchor beard sometimes, which is very similar to Van Dyke goatee. Instead of having a mustache with a chin puff, a David Beckham anchor beard includes a goatee that is disconnected outwards along the jawline. Also, an anchor beard doesn't include a handlebar mustache.
Unlike most beard styles that require a trimmer, for an anchor beard, you will also need a razor. You can also disconnect the goatee with a trimmer, but a razor is required for the best results. You should give the David Beckham anchor beard a try it's great look.
David Beckham's Beard Color
You might have noticed that Beckham's facial hair is not always the same color. It is usually either grey or black, but sometimes, it is slightly blonde, or something between brown or light brown. No matter what color is your facial hair, at least some of these styles will fit you correctly.
David Beckham's Grey Beard
We mentioned that Beckham's facial hair is not always the same color. The fact is, he sometimes dyes his beard to match his current dressing style, or simply because he wants it to be a different color or shade. However, his facial hair is naturally slightly grayish.
David Beckham's Grooming Products
David Beckham also launched House 99, which makes and sells high-quality products at a very reasonable price. The company sells many products, but if you want to make your beard softer you should check out some of the following:
House 99 Neat Cut
House 99 Softer Touch
I found House 99 Seriously Groomed on Amazon. Yopu can click through the link below to check it out. As always if you use our link to purchase it does not cost you anymore, but we get a small commission that helps with producing this content for you.
Latest posts by Beardition Team Contributor
(see all)
Last update on 2023-09-03 / Affiliate links / Images from Amazon Product Advertising API