Dealing with irritated skin under your beard can be quite the struggle, so it's important to understand what makes both your skin and facial hair itchy and painful in the first place.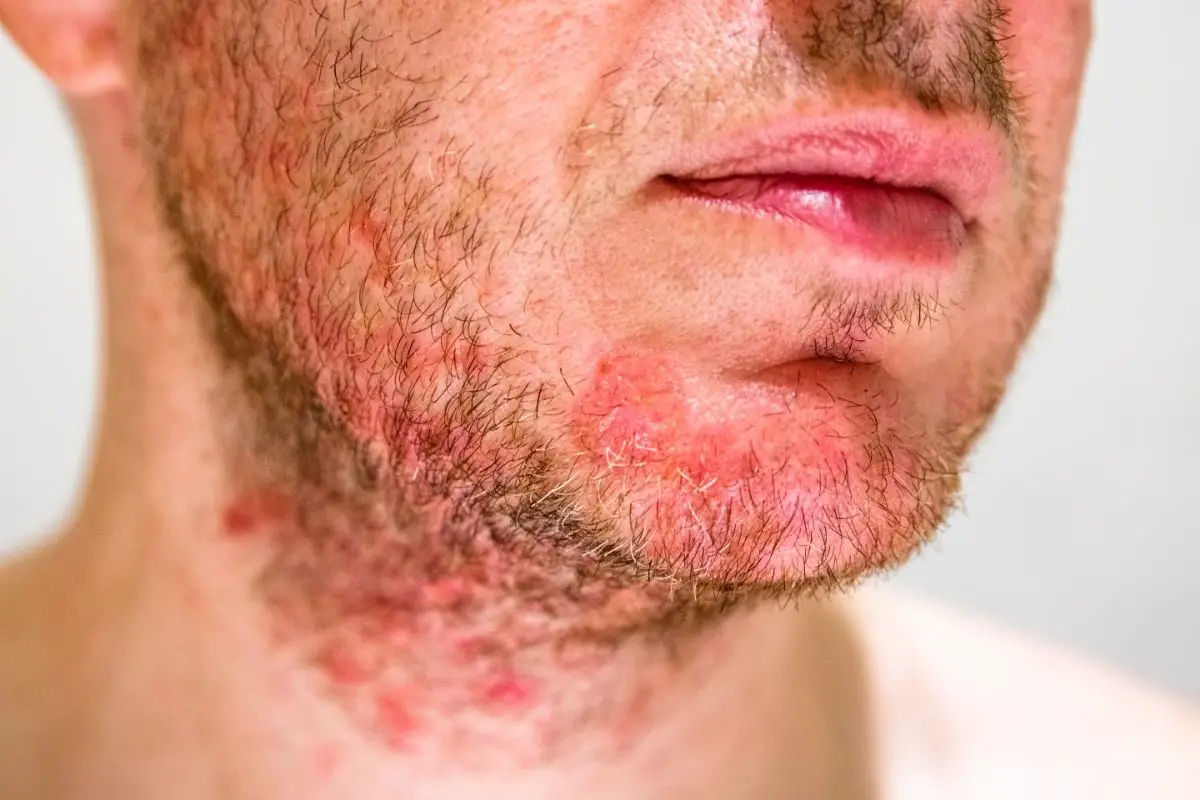 This, of course, can vary from person to person, but there are a number of common factors that can lead to beard itchiness for pretty much anyone.
In this guide, we'll take a closer look at 10 of the main reasons why the skin under your beard is both itchy and painful, and some of the best products you can use to limit the problem. We'll also look to answer a number of the frequently asked questions.
1). Build-Up Of Oil And Debris
Perhaps the most common reason why the skin under your beard might become painful is a build-up of oil and debris. This kind of build-up tends to remain on both your facial hair and skin until properly cleaned, leading to extreme itchiness and the feeling of having a "hard beard".
In order to effectively remove a build-up of oil and debris from your beard, it's a good idea to use a clarifying beard shampoo rather than a regular hair shampoo, soap, or body wash.
This is because facial hair is considerably more delicate than the hair on top of your head, so using regular hair shampoos and harsh body washes can often strip your beard of its natural protective oils. Without this protection, your beard will be dry and vulnerable to breakage.
On the other hand, specially-designed beard shampoos are formulated to safely remove the build-up of oil and debris as they contain lots of essential oils such as tea tree oil which encourage exfoliation.
2). Using Hot Water To Wash Your Beard
While it might be tempting to take a hot shower after a long day at work, it's never the best option for either your skin or hair. This is because hot water has a tendency to dry out your skin, which can subsequently lead to irritation, flakiness, and the development of beard dandruff.
Warm water is usually okay for your skin and facial hair, but if the water ever reaches a temperature where your skin turns red or you're unable to keep your head under it, then it's definitely not doing you any good.
3). Failing To Trim Your Beard
If you want to prevent your beard from constantly itching, it's essential that you trim it on a regular basis. This also helps to keep it looking fresh, clean, and tidy.
While beard trimming is most commonly associated with short-length facial hair, it's important to keep trimming your beard even when you're trying to grow it out.
This is because regular trimming helps to provide your beard with a good level of shape as it grows, making sure you avoid problems such as beard patchiness on your cheeks.
4). Neglecting To Comb Your Beard
When it comes to growing a neat and tidy beard, it's vitally important to invest in a high-quality beard comb. Unlike the hair on you heard, facial hair is a lot more delicate and sensitive, so using a low-quality wooden beard comb will only serve to splinter and break your beard.
If you're looking to moisturize your beard, the best way to do this is to apply an all-natural beard oil and then spread it throughout your beard using a high-quality beard comb.
5). Not Applying Beard Oil 
The use of beard oil is essential because it softens your beard and provides it with important vitamins and nutrients. If you decide to let your skin and beard dry out in the shower without applying any kind of conditioning oil afterward, you're effectively letting the dryness build up even more, which can lead to further irritation, flakes, and dandruff.
If you have a beard that's particularly itchy and problematic before you go to bed at night, you can invest in an anti-itch beard oil. Applying this routinely before going to sleep should solve the problem within a week.
6). Growing A New Beard
The itchiest and most irritating phase of growing a beard is often the very first stage. When growing stubble, there's every chance that your face will become overly sensitive and itchy due to the new hair growth.
There's no need to worry as this is completely normal, and can usually be solved by using a beard shampoo and then applying an all-natural beard oil afterward.
The most important thing to keep in mind during this initial growth phase is to resist the urge to scratch. An excessive amount of scratching will only serve to irritate your skin further and potentially lead to other issues such as beard dandruff and ingrown beard hairs.
7). Using A High-Heat Device To Dry Your Beard
Using a high-heat device such as a hairdryer, flat iron, or curling iron should be avoided at all costs when drying your beard. This is because high levels of heat can easily cause your facial hair to break.
So, when it comes to taking good care of your skin and facial hair, it's always best to play it safe and use cool or lukewarm water to avoid any risk of irritation.
8). The Presence Of Dandruff 
This is a condition that mainly occurs when you have dry, flaky skin around your facial hair. It can also be caused by seborrheic dermatitis (irritated oily skin), as well as oil and debris build-up.
The best way to prevent dandruff from forming in your beard is to use proven, high-quality products. These will keep both your skin and facial hair as clean and healthy as possible.
9). Ingrown Facial Hairs
One of the most common causes of beard pain, especially during the early stages of growing a beard, is the emergence of ingrown hairs. These can prove to be a real nuisance and incredibly painful.
The most effective method of dealing with ingrown beard hair is to gently remove it with a tweezer. Following this, it's essential that you keep your beard as clean as possible to prevent further ingrown hairs from developing.
10). Seasonal Dryness
If you already have sensitive and dry skin under your beard, seasonal dryness can make your skin feel even coarser than usual. Some of the most common examples include exposure to direct sunlight, cold wintry air, and overheated rooms.
Some exposure is fine, but it's important to protect your skin and facial hair from any drastic changes in the environment if you want to keep beard irritation and dryness under control.
Best Products To Prevent Beard Irritation 
As we've already touched upon, there are plenty of products you can use on your beard to keep both your skin and facial hair in good condition. We'll now take a closer look at some of these important beard care products.
Beard Shampoo
Even if you're using the best oils, lotions, and balms on the market, these are limited in their effectiveness without a high-quality beard shampoo. Try to avoid using regular shampoo for your beard as this can cause irritation and a build-up of oil and debris.
Instead, it's essential that you invest in a good beard shampoo to properly cleanse your skin and facial hair, without stripping either of their natural protective oils. This is because these oils help to prevent dry skin and itching.
Beard Conditioner/Oil
After using beard shampoo, it's a good idea to follow up with a high-quality conditioner to keep your beard soft, moisturized, and to prevent the risk of split ends.
The best time to use a beard conditioner or all-natural beard oil is straight after showering. Moisturizing your facial hair on a regular basis with a suitable conditioner will not only keep it healthy and encourage growth but it'll also help to keep it soft and free of itch.
Just keep in mind that it's incredibly important to choose a beard conditioner or beard oil that doesn't contain any fillers or artificial fragrances.
Anti-Itch Beard Oil
If you want to immediately stop the problem at the source, anti-itch beard oils are the best option. The highest-quality anti-itch beard oils can soothe redness and irritation, while also hydrating your skin.
Most of the best products on the market are light, conditioning, but not overly greasy. They also use a combination of excellent carrier oils such as castor oil, almond oil, jojoba oil, and much more, to achieve the desired consistency.
Beard Lotion 
In situations where you require immediate relief from the frustrating itching and redness associated with facial hair problems, beard lotion is an excellent option.
Most high-quality beard lotions are fast-acting and don't remain greasy once applied to facial hair. In addition to providing instant relief, it's also great if beard lotions contain ingredients such as vitamin E, peppermint, and tea tree, which all help to complement the effectiveness of the already-hydrating lotion.
Beard Growth Oil
This product can stimulate your hair follicles and promote blood circulation, giving your beard the best chance of absorbing as much nutrition hydrating power as possible.
The best time to use beard growth oil is after a shower while your pores are still open. This is because the highest-quality beard growth oils on the market don't clog up your pores, making them the perfect product to massage into your skin and beard.
Our Recommendations
OUR TOP PICK
Viking Revolution Beard Wash And Beard Conditioner Set
EDITORS CHOICE
Professor Fuzzworthy's Beard Shampoo With All Natural Oils
BEST VALUE
Bossman Fortify Intense Beard Conditioner
OUR TOP PICK
This excellent shampoo and conditioner set from Viking Revolution is designed to clean, hydrate, and soften your beard. Both products in the set contain natural beard oil to provide the deepest moisturization and best beard growth possible.
Simply massage a small amount of shampoo and conditioner into your beard and enjoy the natural shine!
EDITORS CHOICE
This incredibly popular and highly-rated beard shampoo is made up of organic ingredients for beard softener, anti-itch, and to encourage faster beard growth.
The 100% natural shampoo provides a masculine woody scent, while it's a perfect, no-fuss grooming solution for those who care about the condition of their skin and facial hair.
BEST VALUE
Made from powerful natural ingredients such as avocado oil, mango butter, aloe leaf, and jojoba esters, this beard conditioner is one of the very best on the market.
Where this product separates itself from other competitors is the fact that it targets your hair follicles and pores in order to stimulate faster and thicker beard growth.
What's more, not only is this beard conditioner incredibly effective when it comes to moisturizing your beard, it also smells fantastic – with a warm blend of vanilla oils and rich sandalwood.
RUNNER UP
This self-proclaimed "best beard conditioner ever" from Just For Men is ideal for those looking to develop a soft and smooth beard without clogging any pores.
Made with oatmeal, chamomile, aloe, and jojoba oil, the fast-acting conditioner is also effective when it comes to calming and moisturizing the skin underneath. Simply squeeze a small amount into your hands and then distribute it evenly throughout your beard.
RUNNER UP
SheaMoisture's beard conditioning oil combines maracuja oil and shea butter to leave your beard feeling soft, moisturized, and shiny.
After using a suitable beard wash, massage a few drops of this conditioning oil into your beard from the roots to the ends.
If you have a particularly thick or coarse beard, you might need to add a couple more drops. It's worth noting that this high-quality oil is formulated with no phthalates, no parabens, no mineral oil, or petrolatum.
RUNNER UP
This fantastic beard growth oil is carefully formulated to provide you with all the vitamins and nutrients required for effective beard growth. The oil itself contains a number of multi-effective ingredients, such as biotin which helps to strengthen the beard root.
Moreover, the addition of caffeine counteracts testosterone inhibition and promotes fast beard growth, while polygonum multiflorum speeds up blood circulation.
RUNNER UP
The beard balm from Honest Amish helps to soften and condition your beard, while also nourishing new growth.
With only natural ingredients used in this high-quality beard balm, it's a great option if you're looking to prevent the itchiness and irritation often caused by wild rogue hairs and new growth.
RUNNER UP
This vanilla beard balm from Striking Viking is ideal for styling, strengthening, and softening your beard. The balm wax is made with high-quality, all-natural ingredients such as shea butter, tea tree, argan, and jojoba oils to help nourish and protect your facial hair.
Simply apply a small amount onto your skin at the beard roots, and you'll be looking and smelling great!
Frequently Asked Questions
Why is My Beard Always Irritated?
As this guide has demonstrated, there are several reasons why your beard and skin might become itchy and irritated. These include dry skin, poor hygiene, acne breakouts, ingrown hairs, as well as excessive grooming using soaps and other products that aren't specially formulated for facial hair.
Furthermore, there are also situations where a beard itch might indicate a deeper, more serious issue, such as a fungal or bacterial infection.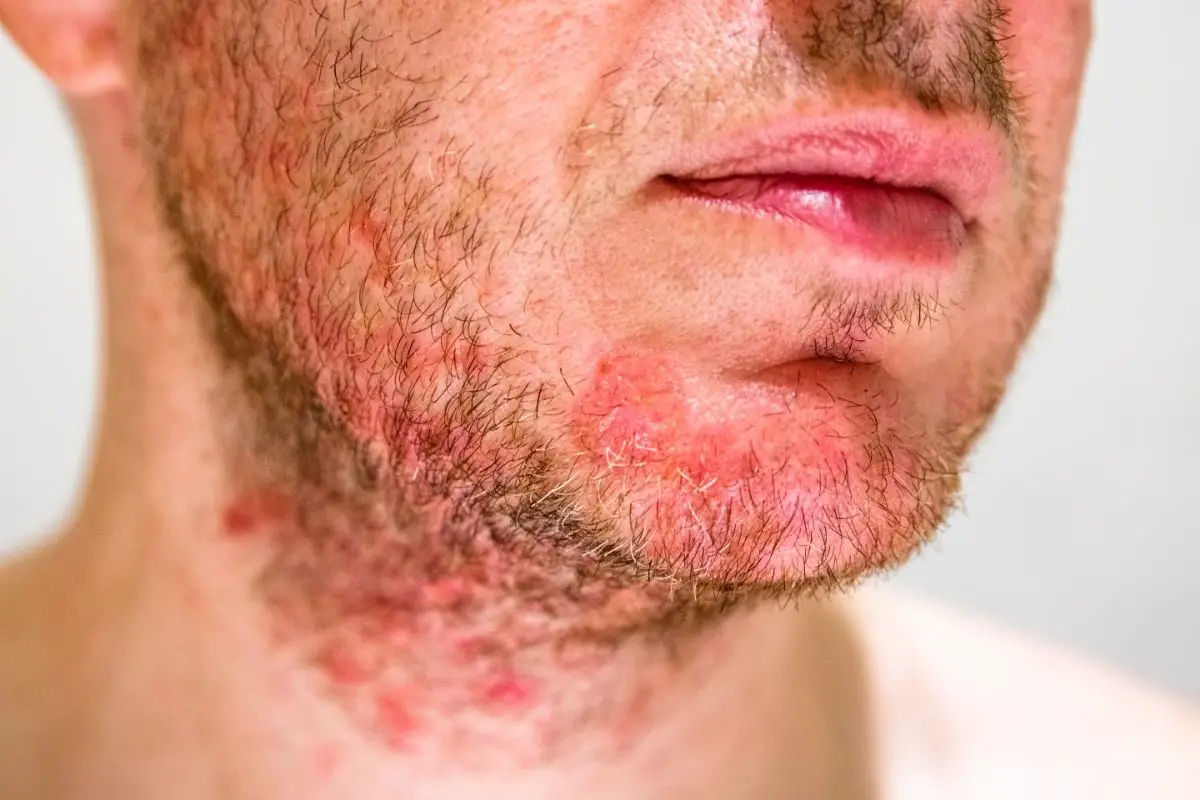 Why Do I have Scabs under My Beard? 
The formation of scabs under a beard is known as "tinea barbae", which is a fungal infection in the facial hair region. It's predominantly caused by a type of fungus called "dermatophyte".
This problematic fungal infection typically appears as red and inflamed crusty skin around the face – although mainly restricted to the cheeks, mouth, and under the chin. This infection is similar to ringworm of the scalp, also known as "tinea capitis".
Does Tinea Barbae Go Away on its Own? 
Yes, there's always a possibility that tinea barbae might go away on its own in a matter of months without any form of treatment – especially for healthy individuals. However, it's important to note that this isn't always the case.
Ringworm on the body is often treated with a topical ointment like terbinafine, with treatment usually lasting for around four weeks.
What is a Patchy Beard? 
A patchy beard is one which demonstrates uneven facial hair growth. More often than not, this is a result of genes passed down by parents, but there are several other factors that can also have an effect.
For example, your beard might grow unevenly in some places due to an imbalanced diet or varying levels of stress and hormones.
Is Coconut Oil Good for Beards? 
Yes, coconut oil provides protective and hydrating properties which can soothe the irritated skin under beards and improve the appearance of the hair.
This is why many people choose to use coconut oil as an effective beard balm – either in its purest form or as an ingredient contained in another product.
How Can Beard Dandruff be treated? 
If you're suffering from beard dandruff and need an effective treatment method, it's a good idea to look for a beard shampoo that contains the active ingredient 1% ketoconazole.
This ingredient is an antifungal medication that's great for helping to kill fungus and yeast, and then preventing them from growing back. You should be able to find this over-the-counter, although it's worth keeping in mind that some of the stronger doses of shampoo might require a prescription from your doctor.
Should I Use Beard Oil Every Day? 
It's pretty unlikely that you need to apply beard oil every day. The best thing to do is start by applying it every other day, and then adjust your routine after seeing how your beard reacts.
Just kind in mind that if you live in a particularly dry climate, you might need to apply beard oil on a more regular basis. While, on the other hand, if you feel like your beard is too greasy, you can cut back on how often you apply oil.
Can Shaving your Beard cause Acne? 
No, the process of shaving doesn't directly cause acne, but it can cause razor burn which is an issue often mistaken for acne.
Razor burn is usually caused by using a clogged, dull, or dirty blade, so it's important you keep your razor in good, working condition.
What is Meant by the term "Beard Burn"? 
The term "beard burn", also known as "stache rash", is a type of skin irritation that occurs when hair moves close against the skin and creates friction. This problem can affect pretty much any area of the body, so long as a man's beard comes into contact with skin.
One of the most common situations where "beard burn" can occur is when kissing someone or engaging in oral sex.
The Bottom Line 
To conclude, dealing with skin and facial hair irritation is considerably easier when provided with the correct information. Not only is it important to fully understand the reasons why the skin under your beard hurts but it's also essential to know how you can overcome these issues.
Hopefully, after reading the information provided in this guide, you'll be in a much better place to deal with any kind of beard irritation or pain in the future. Good luck!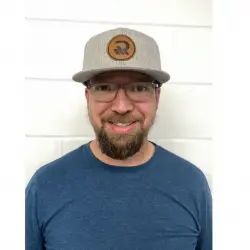 Latest posts by Doug Wells
(see all)
Last update on 2023-09-03 / Affiliate links / Images from Amazon Product Advertising API