So, you've decided that it's time to start styling your facial hair. Maybe you've found that it's just growing too fast, and you're tired of shaving it and having a five o'clock shadow.
Or perhaps you just want to give a different look a try. Variety is the spice of life, after all!
The question you now have to ask yourself is: What style do I want to grow my facial hair in?
Whilst there are certainly plenty of different ways to trim and maintain your facial hair, there is one particular type of facial grooming that often gets overlooked, and is perfect for those that want a low maintenance style to go for.
And that is the long goatee.
A long goatee is simply a beard that goes from ear to ear, but unlike other beards, it doesn't stop at the chin. Instead, it continues past the jawline and down the neck, creating an elongated shape.
It can be worn with confidence, as it looks great on most men – and even some women!
So, if you're looking for a new way to style your facial hair, or you'd like to experiment with a different look, then why not take a look at some of these different styles of long goatee for you to try.
Plus, some extra styling tips that you might find helpful for keeping up your new favorite look!
Long Hair, Long Goatee Style
Starting us off with a classic, we have a goatee style of beard with longer hair. It has been the look of choice for Brad Pitt on several occasions.
But it has also been a popular choice for stars such as Tom Hardy. With this look, your goatee is complimented by your long, straight hair.
If you want to try this style out for yourself, remember to keep your beard and your hair at least a little maintained, so that it remains straight and smooth enough for this look to work properly.
Otherwise, your hair will be too unkempt — Think less movie star and more evil scientist.
Hipster Beard With Goatee
If you're the kind of person that likes to stay on top of what is and what isn't hitting the mainstream and want to differentiate yourself a little, a beard and goatee combination is an excellent way to do it, especially with a clean, well-maintained edge to your beard.
Just because you're a hipster, doesn't mean you have to miss out on having a good beard!
Braided Goatee Style
If you're looking to accessorize your goatee, then you might want to try a braided look for your facial hair.
It is almost instantly visually different from pretty much how everybody else styles their mustaches and beards, and it's a way of keeping it tidy if or when it becomes too long to just let flow naturally.
The only thing you should consider before giving this a try for yourself is that braiding your beard might be a little challenging, especially if you haven't done it before.
You also need to already have quite a bit of facial hair to start styling it this way, too. But if you can pull it off, you'll have a beard like no one else in the room!
Beaded Viking Goatee
As a follow-on from the braided beard idea, another style that is often tried with a longer beard, sometimes on its own, sometimes combined with braiding, are beard beads.
They give a distinct look just like the braided goatee, and looking more like a Viking is never really a bad thing in today's world!
Plus, it's a way of keeping your beard hair tidy, especially if you don't feel like you have the time to braid it. When it comes to longer goatees, this is definitely an option to consider!
Full Metal Long Beard-Style Goatee
Of course, if you're looking for long goatee styles, we can't forget the metal head look.
Probably one of the longest styles on this list, this style simply lets you grow your hair out as long as possible.
With no real rules on how long the beard grows to achieve this style, it's a great option for those who just want to let their beard and facial hair do their own thing.
Just remember to keep it well brushed and knot-free!
Long Goatee With Handlebar Mustache
For those looking to style their mustaches along with their goatee, then this style might be just what you're looking for.
Being especially popular among people whose facial hair is going a little grayer and whiter, the pointed edges to this style of goatee add a bit of class.
It's a great little addition to this look, especially if you're a bald-headed man looking to put some effort into your facial hair
Styling Tips
So, we've gone through some styles for you to try. Now, here are some general tips for when you are styling your goatee.
Use A Beard Trimmer
This will help you get rid of any stray hairs that you may not notice right away. Even though they aren't really noticeable at first glance, these could potentially cause problems later down the line.
Keep It Groomed
It goes without saying, but a beard needs to be kept neat all the time. Try not to let it get out of hand, otherwise, it is going to be a pain to eventually comb and get back in line
Beard combs or beard brushes are good tools to use for getting knots out of your beard. Use them at least once daily, and your beard will look tidy, longer, and more luxurious than ever.
Conclusion
We hope you enjoyed reading about our best goatee and mustache ideas. There are plenty of other styling designs that we couldn't even touch on, so feel free to get creative with them.
Do you think you'll give these styles a shot?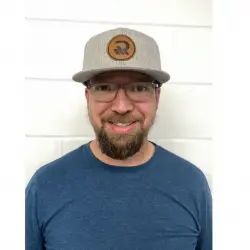 Latest posts by Doug Wells
(see all)