Getting a haircut can be tedious. Having to book an appointment or waiting your turn for what seems like hours while you watch everyone else getting their trim.
Cutting your own hair and giving yourself a trim at your own convenience is a serious game-changer.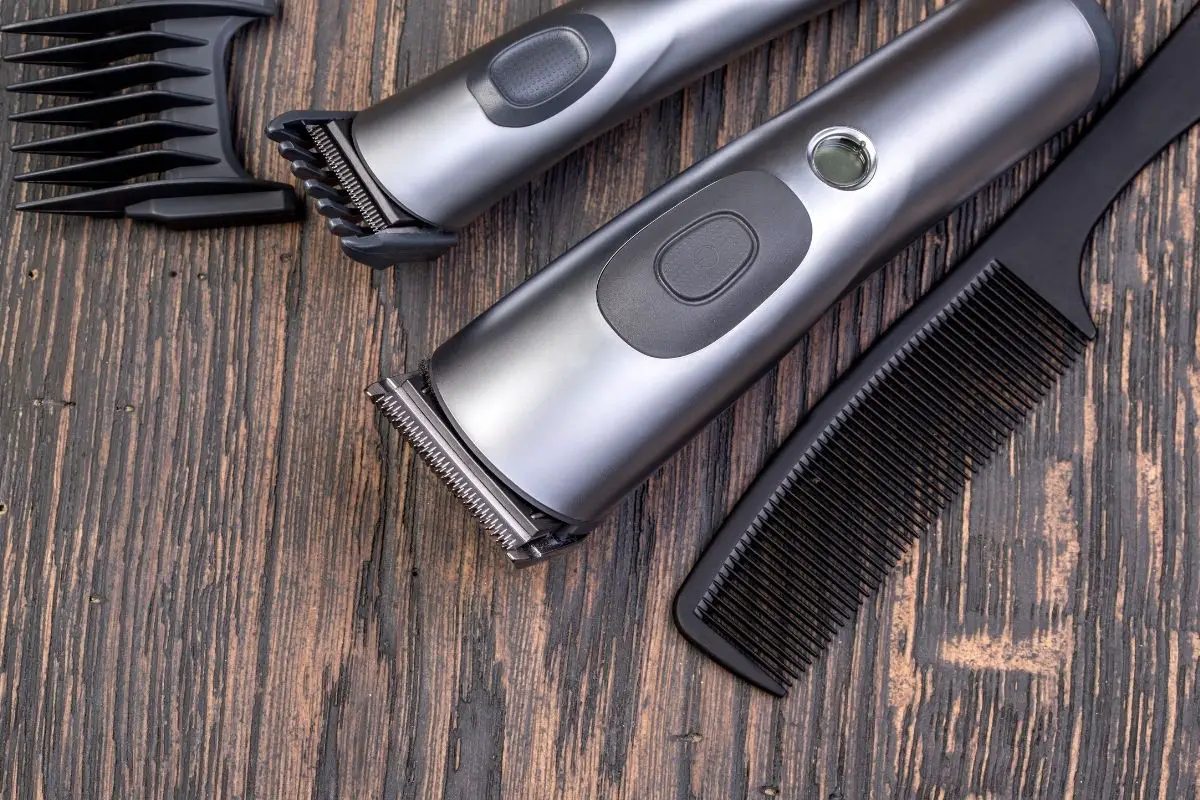 Yes, there is an investment at the start but you may find that buying your own hair clippers pays for itself in a few months.
Once you do decide to cut your hair, you may be surprised by how many hair clipper sizes there are.
Finding the right size (or sizes) for your hair and the trim you want could be a case of trial and error.
First, you have to understand how small the hair clipper blades are and then consider the hair clipper guards.
In this definitive guide, we will look at the ranges of hair clipper blades and clipper guards that are available and how you should use them.
The measurements should be simple yet there are some discrepancies to make a note of.
Once you understand the equipment, certain haircuts are simple to achieve. That is if you have the right-sized blades with the clipper guards, and you are not afraid to use them.
How Do Hair Clippers Work
Hair clippers are quite straightforward to use if you spend the time to learn how they work.
Different length settings can be achieved with removable hair clipper guards that let you get the trim you want and the haircut you desire.
That may be in a uniform length all over or maybe different lengths for certain places in a more intricate style.
These hair clipper guards are numbered and occasionally come color-coded for ease of use.
Each number, or color, refers to its specific length, specifically the length of hair that will be left should it be used properly.
Haircut numbers themselves refer directly to hair clipper guard sizes which are etched into the guard. The smaller the number, the closer the trim.
Most brands measure their range of blades and clipper guards in increments of an eighth of an inch, which is also converted into millimeters.
However, there may be some slight discrepancy between one brand and another. There are three main brands to look out for; Oster, Andis, and Wahl.
Over time, we appreciate how we like our hair.
Whether that is a uniform buzzcut or a layered look, in certain places it should be short though in other areas it is nice to have some hair to play with and style.
A huge bugbear for hairdressers and barbers is someone wandering in simply asking for a 'trim'.
That could mean a lot of things and with so many hair clipper guards you could literally pick a number from 0 to 8. Try not to confuse the person who is about to wield some hair clippers on your head.
You may be a better customer than that and are used to walking into your hairdressers or barbers and asking for a specific numbered trim.
For instance, "A Number 1 haircut please" would instruct them to attach the Number 1 Guard to the hair clippers which should leave around an eighth of an inch of hair, a really short cut then.
A 'Number 4 haircut' is longer and would only leave a medium length of around half an inch of hair.
If you go in and ask for a 'Number 0 haircut' then typically no hair clipper guard is used and your scalp will be exposed.
This would be classed as a very close buzzcut as only a sixteenth inch of hair will be left.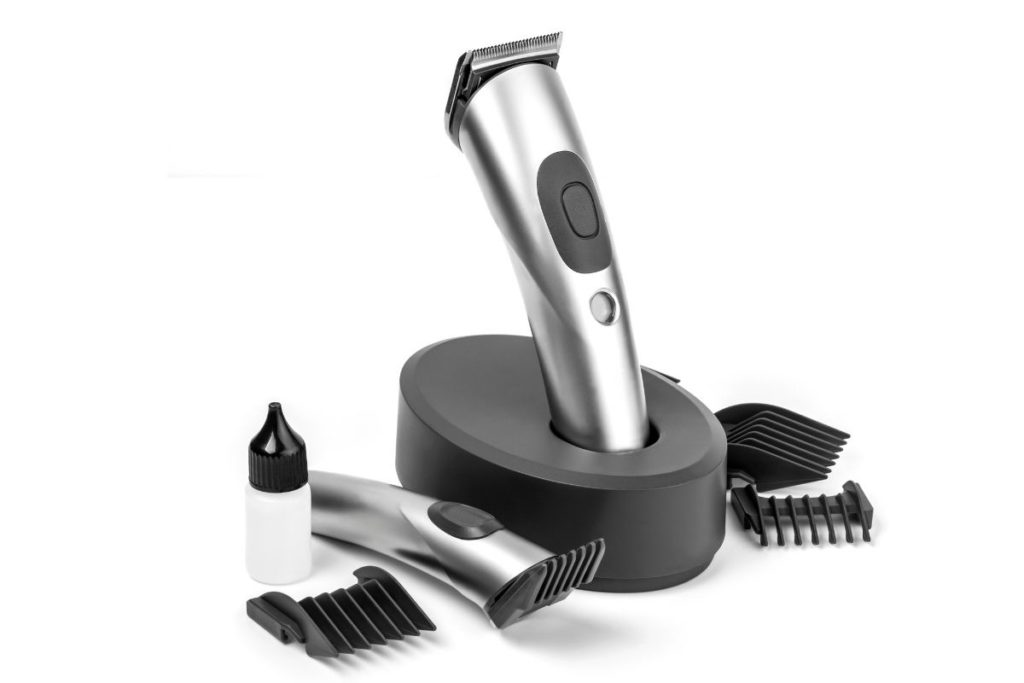 The Smallest Hair Clipper Blade Sizes
The closest trims do not require a hair clipper guard at all though the size of the blades varies too.
Both Oster and Andis use blade numbers that use a series of zeroes for their smallest hair clipper blade sizes.
For Oster, they begin at Blade 00000 which is 1/125 inch in size (0.2mm) and the next one is Blade 0000 at 1/100 inch (0.25mm).
Both Blades 000 and Modified 0A are 1/50 inch in size (0.5mm) while Blade 0A is 3/64 inch in size which is 1.2mm.
For Andis' CeramicEdge Blades, they also begin at Blade 00000 which has the exact same measurements at 1/125 inch in size and measures 0.2mm.
Their Blades 0000, 000 and 0A come in at exactly the same measurement as those of Oster too.
Both manufacturers have the same measurements for their Sizes 1, 1A, and 1.5 sized hair clippers. Size 1 is 3/32 inch in size (2.4mm), Size 1A is 1/8 inch (3.2mm) and Size 1 1/2 is 5/32 inch (4mm).
Going into the Size 2's and again there is little difference between Oster and Andis.
Andis Size 2 measures 1/4 inch (6.3mm) though there is also Size 2 3/4 in an Andis UltraEdge blade which is 5/16 inch (7.9mm). Oster does have a Size 2 but not a Size 2 3/4.
Finally, there are the largest sizes for Oster and Andis.
Both have a 3 1/2 hair clipper blade size that is 3/8 inch (9.5mm) and a Size 3 3/4 which measures half an inch (13mm).
Oster also has an 18 Skiptooth, and a Texturing Size which both measures an eighth of an inch (3.2mm), and a Flattop T Size which measures 1/50 inch (0.5mm).
Meanwhile, Andis just has the 5/8 HT Size which refers to the 5/8 inch measurement (16mm).
Though both manufacturers tend to use the same measurements for their clipper blade sizes, you do get more options with Oster. Their adjustable hair clippers are high-quality for buzzcut lengths.
There is also the option of ceramic blades with some of Andis' professional hair clippers.
These particular ceramic blades are outstanding for durability and cooler blade operation making them ideal for heavier haircuts.
In fact, they are comparably 70% cooler than rival clippers on the market, which is definitely worth noting.
One such model of hair clippers to consider is the Andis BGRc Hair Clipper which is compatible with both UltraEdge and CeramicEdge blades.
Wahl Hair Clipper Blade Sizes
In terms of properly sized hair clipper blades, Wahl only has a few.
However, there is added functionality as the clippers have a lever allowing you to adjust the size as you trim.
Their measured blades are as follows; Blade Sizes 1005 and 1006 measure 1/32 to 1/8 inch (1 to 3mm). While the 2191 Size is a mere 1/50 inch (0.5mm) this is the minimum size as the blades are adjustable.
How Do Hair Clipper Guards Work
Hair clipper guards are specially designed to clip or fit onto a hair clipper's blades. Their purpose is to cut precise lengths of hair for an intricate hairstyle.
The hair clipper guards are especially important for styles that include fades that rely on a slightly longer length.
Just like hair clipper blades, they are also measured in inches and mm. They are also graded in numbers, typically between 0 and 8 which should be easy to follow.
If you regularly go for the same hair trim at the hairdressers or barbershop, you are likely to see the Guard Numbers 1, 2, and 3.
These are the most common sizes to achieve a close enough, worthwhile trim.
Hair Clipper Guard Sizes
Those smaller hair clipper sizes may indeed be way too short for you, especially if you want some texture in your hairstyle.
What you require are some hair clipper attachments to clip your hair a bit longer but still at the length of your choice.
Each clipper manufacturer produces their very own guards but you should also be able to find other ones available separately.
Andis Nano Magnetic Combs
There are two sets of Andis Nano magnetic combs; five short ones and four longer ones.
These are a great option for precise haircuts and do have a secure fit, despite some doubts over their magnetic properties.
That's right, no clips or clasps but those combs have a tight fit.
The Nano magnetic combs will also be compatible with hair clippers from other brands too, including Oster's Fast Feed.
It would be advisable to get the double magnetic guards too.
As with the hair clipper blades and the hair clipper guards, there is a range of sizes for Andis Nano magnetic guards.
The short magnetic guards have five in the set. They begin at Guard Number 0 which measures 1/16 inch (1.5mm).
This goes up to Guard Number 1 at 1/8 inch (3mm) and #2 at 1/4 inch (6mm). The largest guard numbers are #3 at 3/8 inch (10mm) and #4 at 1/2 inch (13mm).
The long magnetic guards only consist of four in the set and should be considered for a layered look.
These are designed to fit several hair clippers including;
Andis MBA Ceramic Select Cut Clippers,
Andis Experience Ceramic MBX Clippers,
Andis MC-2 Easy Style Clipper,
Andis Master Clipper (ML),
Andis Professional Power Master Barber Hair Clipper MA-1,
Andis RACA EasyStyle Adjustable Blade Clipper,
Andis PM1 Trimmer,
Andis PM-2 Clipper,
Andis PM-3 Clipper and
Andis PM4 TrendSetter Adjustable Blade Clipper
The set of four starts with Guard Number 5 which measures 5/8 inch (16).
Next up is Guard Number 6 which is sized at 3/4 inch (19mm), then Guard Number 7 at 7/8 inch, and finally Guard Number 8 at one inch (25mm).
This is the longest Guard Number that Andis uses which is shorter than Wahl's Number 12 which is 1 1/2 inch or 38mm long.
Oster Hair Clipper Guards
Oster has a set of Ten Universal Comb Attachments that range from 1/16 inch (1.5mm) to 1 1/4 inch (32mm). That range begins with Guard Number 0 at 1/16 inch (1.5mm), Number 1 is 1/8 inch (3mm), Number 2 is 1/4 inch (6mm) and Number 3 is 3/8 inch (10mm).
Slightly longer hair lengths should be covered from the following Guard Numbers; Number 4 is 1/2 inch (13mm), Number 5 is 5/8 inch (16mm), Number 6 is 3/4 inch (19mm), and Number 7 is 7/8 inch (22mm).
The largest hair clipper guard sizes are Number 8 which, just like Andis, measures one inch (25mm) and Number 10 at 1 1/4 inch (32mm).
Wahl Hair Clipper Guards
Wahl also has several hair clipper guards which can be used for fades or more intricate haircuts.
The sizes in their set (confusingly) go from Guard Number 1/2 which measures 1/16 inch (1.5mm) to Number 1 at 1/8 inch (3mm), Number 2 at 1/4 inch (6mm), and Number 3 at 3/8 inch (10mm).
For slightly longer hair lengths, there are Guard Numbers 4 at 1/2 inch (13mm), Number 5 at 5/8 inch (16mm), Number 6 at 3/4 inch (19mm), Number 7 at 7/8 inch (22mm), and Number 8 at an inch (25mm).
The two largest hair clipper guard sizes are Number 10 at 1 1/4 inch (32mm) and Number 12 which measures 1 1/2 inch (38mm).
These sizes are effectively the longest you should be able to find so ensure that you will make good use of them.
For truly easy-to-use hair clipper guards, Wahl has the Professional 8 Color Coded Cutting Guides. You cannot really go wrong with color coding and each different color corresponds to a specific size.
This set goes from Guard Number 1 to 8 so you should be able to perform a close enough time.
The color coding is particularly helpful if the hair clipper guards are used on several people as each will recognize their regular sizes based on the colored guards.
There should not be much guesswork in a haircut, you should know which guards you use each time.
A more professional look comes from the Wahl Professional Premium Black Cutting Guides.
These metal clips can achieve great fades and may be considered more durable than the plastic, color-coded range.
Haircuts To Get With The Smallest Hair Clipper Guards
The smallest hair clipper guards are used for the sharpest of trims. There are certain haircuts that you can achieve with your hair clipper blade while using some hair clipper guards.
One general rule to follow with hair clipper guards is to begin with the largest one for a consistent trim all over.
Once you have a regular hair length covering the head you can begin to style and trim your hair with various removable hair clipper guards.
The Bald Cut/A Number 0 Haircut
Those who have begun the balding process and are losing their hair should go for a consistent trim.
The Bald Cut does not need a hair clipper guard and only uses the permanent guard on the hair clippers. It can also use a small of blades, specifically Blade Size 0000 for a super short cut that will expose the scalp.
You can even use a regular razor blade to get that close-cut, like you would your own face. Alternatively, you could use that blade size for an easier beard shave.
If you did want a skin fade in certain places, or even all over, then simply use the hair clipper blade as you will also not need to bother with any hair clipper guards.
That means a #0 haircut (or 1/2 if you were using Wahl hair clippers) which is only 1/16 inch or 1.5mm and really close to bald.
The Buzzcut/A Number 1 Haircut
Another reassuringly short, though less smooth, trim is The Buzzcut or a Number 1 Haircut. This is a uniform-length haircut that is really straightforward with no need for a razor blade.
You should use Guard Number 1 but do ensure you cover your entire head and be wary that your scalp will still show.
This is a really cheap haircut to stay fashionable, plus you can give yourself a quick trim before you head out.
The Longer Buzzcut/A Number 2 Haircut
A Number 2 Haircut is quickly becoming a popular option using hair clipper sizes for a longer buzzcut though it can be used for fade haircuts.
This is a nice in-between, as it is not too short and not too long as it measures a quarter-inch which is a fuller hairstyle that will not expose your scalp.
Ideal for men with thinning hair but great for those with thick hair too.
You can also play around with style by having a Number 2 on top and skin fades at the side.
The Burrcut/A Number 3 Haircut
That's right, a burrcut can be achieved with a hair clipper guard too. Guard Number 3 will trim your hair to 3/8 inch which is typically the length a barber would use to keep short faded sides in decent trim.
The longer burrcut can be very quick to perform for maximum convenience.
Your hair should still look short but remain appearing full with some serious body, ideal for those with thinning hair who do not want to go really short.
The Brush Cut/A Number 4 Haircut
A happy medium length is a Number 4 Haircut that trims to half an inch long. This can be known as a brush cut.
There are similarities with a buzzcut but this trim can come with a skin fade on the sides with longer hair on the top.
Great for both thin and thick hair who want a conservative haircut and style. For some, this is an ideal hair length as they can always grow it out or trim it back.
Taper Styling/A Number 5 Or 6 Haircut
At 5/8 inch, most brands and barbers would use Guard Numbers 5 and 6 for taper styling.
However, these are fuller lengths to go for if you wanted a bit more than a Number 4 haircut that you could still brush.
At Guard Number 6, you could still have a hair length to style which may be long enough for those with wavy or curly hair.
The Crew Cut/A Number 7 Haircut
At Number 7 we have the crew cut which can be a really simple and quick haircut without the need for scissors. However, you may still want a nice clean fade on the sides for a bit of style.
Guard Number 7 is really handy if you wanted to leave a longer hair length on top but wanted to create some order at the sides.
Simply style the hair on top and trim with a 7 on the sides to keep that volume.
Men with thick hair should use Guard Number 7 for a bushy crew cut. As this measures 7/8 inch (22mm) it can be considered as a convenient trim before going for something more drastic.
The Number 8 Haircut
For a suitably lazy trim, go for the largest hair clipper guard size available.
At a full inch in length, Guard Number 8 can be used on the top if you want to go for a fade at the sides with Guard Numbers 1 to 4.
Alternatively, with an 8 on the sides, you can really go for a full-bodied style on the top.
For a simple, neater head of hair consider Guard Number 8 as this can thin out hair and make it more manageable when you want to style your hair with gel or product.
It is also the ideal Guard Number to use for a long taper fade to keep your hair long, in parts.
The Layered Look
With a set of hair clipper guards, you can trim certain areas just how you like them.
Perhaps you like it short at the back and sides, in which case choose a hair clipper guard for the length you want and trim away.
Try to keep the lines accurate and go down in increments so start long then go shorter. This should give you a regular crew cut though you can change it up.
Even if the lines are not quite as precise as you want, that can always be fixed. If you like the sides buzzed close then use a small-sized hair clipper guard.
Alternatively, for more texture, go for a slightly bigger hair clipper guard size.
For a true layered look, the hair on top of your head should be a little longer.
It may be a good idea to set out which hair clipper guards you want to use first so you can measure them up beforehand.
Stick to just two; one for the back and sides with the other one for the top which can be one or two sizes larger.
A tapered/layered trim would typically use Guard Numbers 4, 5, and 6. Numbers 4 1/2 inch (13mm) and 5 (5/8 inch or 16mm) for the back and sides while Number 6 (3/4 inch or 19mm) for the top.
You may find that when you use Guard Number 6 on the top, you may require a more frequent trim, unlike the closer buzzcuts and skin fades.
If you are being cautious then you can trim from the one or two sizes up from your desired length, see how that looks and feels and then use the smaller sizes for a closer trim.
Over time, you should know what length you like and which hair clipper guards can achieve that specific trim.
Becoming familiar with your hair clipper guards should give you more confidence the more times you give yourself the trim you want.
The Longest Hair Clipper Guards
If you were wondering how long hair clipper guards, then they can go as far as two inches.
However, only third party manufacturers create their rather bespoke clipper guards so you will have to seek them out.
Why You Should Own Some Hair Clippers
If you are going to the barbers or hairdressers at least once a month for the same trim then that can soon add up in costs over a year.
Think about how much money you could save from investing in a pair of hair clippers and doing it yourself.
No more relying on someone else to trim your hair, no more having to book an appointment.
All this and you have the freedom to do it when you want and how you want. Owning your own hair clippers is simply great economic sense.
Maintenance Tips
If you do decide to buy hair clippers then you should take good care of them. That means regularly rinsing the hair clipper guards after every use.
You should also invest in a cleaning brush, clipper oil, and a styling comb.
Final Thoughts
There are some general tips to heed before applying hair clipper guards and cutting your own, or someone else's, hair.
As with any DIY exercise, check the equipment first. In this case, the hair clipper guards themselves as if broken, they will simply fall off.
They can even create gaps or unwanted markings on the head.
There are three main manufacturers of hair clippers; Wahl, Andis, and Oster.
Though there are a lot of similarities between the sets of hair clipper guards they provide, and the blades themselves, there are minor differences.
You could find longer hair clippers that provide a more general trim while other guards are made for specific tasks such as texturing.
Remember that the lower the clipper guard size, the closer the trim.
It is typically better practice to start with a higher number then check how that feels before trying a lower guard number for a shorter cut.
A lot of people may not be familiar with hair clipper guard sizes so let them inspect the trim before any more hair is trimmed. However, it is hair, it is fixable.
If something goes drastically wrong you could always simply opt for a regular buzzcut for a uniform look then grow it out.
Just make sure you remove and clean your clipper guards from any leftover hair after each use.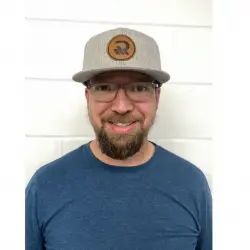 Latest posts by Doug Wells
(see all)