You may want to grow a mustache but are unsure what style or type to grow. Thus, you may be surprised to find out that there is a wide range of mustache types out there for you to choose from.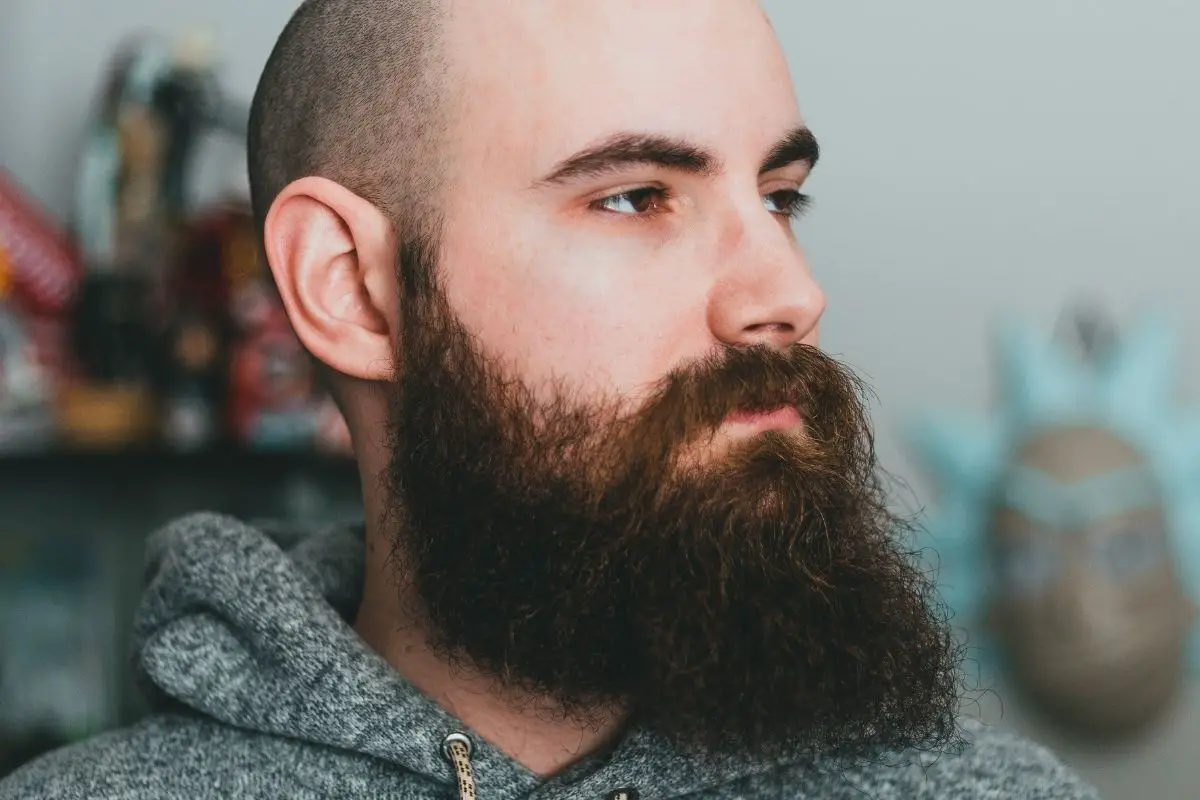 Each type of mustache is suited to different people. However, with any mustache, you need to grow, trim and take care of it properly.
In this article, we have put together a list of awesome types of mustaches that you could grow yourself. On this list, you may find the perfect mustache to suit you.
Classic Handlebar Mustache
The Classic Handlebar Mustache is considered one of the oldest mustache types out there. Yet it is still a popular choice today for many men.
This type of mustache can be left long or short. You will even see some varieties of this look where the ends are curled. The ends are typically curled upwards using a certain kind of mustache wax.
Relaxed Handlebar Mustache
Compared to the classic handlebar mustache, the relaxed version is much easier to maintain. In a sense, the relaxed handlebar mustache doesn't need to be groomed and maintained as often or as precisely.
It is for the kind of man that doesn't want to put much effort or care into his mustache.
This type of mustache really suits men who have deep-set eyes and heavy eyebrows. It helps compliment the dark facial features.
The French Mustache
The French Mustache is another variation of the classic handlebar mustache. However, this type of mustache appeared in France during the 16th Century.
This type of mustache is quite thick and upwardly curved. It is generally quite long, and the ends are curled and pointed.
A simple yet classy mustache that is instantly recognizable. The ends will look even better if mustache wax is applied. As a result, the French mustache is quite simple to care for.
Monopoly Man Mustache
The Monopoly Man mustache has a similar shape to the handlebar mustache that we have just spoken about.
It is seen as another classic mustache that is slightly different from other mustaches that you may come across.
For the Monopoly Man mustache, you should ideally have full hair on your upper lip. The hair is supposed to meet in the middle of your lip so that your mustache creates a solid color.
The ends are generally twisted to a point that points upwards. Who doesn't want to look like their favorite board game?
The Imperial Mustache
The Imperial mustache makes a statement. It is a thick mustache that gives off traditional mustache vibes.
This mustache is grown so that it reaches just above your bottom lip, the ends are then twisted and grown upwards. The ends will typically curl round, which helps give this mustache its classic look.
The rest of the face is mainly clean-shaven when it comes to this mustache, so all the focus can be on the mustache itself.
The Anchor Mustache
The Anchor mustache looks just as it sounds. A long mustache that reaches the sides of your cheeks, then you style your beard so that only a line from the soul patch to the chin is seen.
Ideally, you are trying to recreate the traditional anchor shape that has been used on ships.
Compared to other mustaches on our list, this is a very minimal look, yet it looks professional and clean.
The Butch Mustache
The Butch mustache spreads across your upper lip and ends just past the corners of your mouth. Some men will complete this look with a jaw beard and a tiny bit of soul patch.
A strong look for anyone with well-defined cheekbones and jawline. The mustache itself is quite simple, and ideal for anyone who can grow a thick mustache.
It is easy to maintain and has similarities with the anchor and handlebar mustache types.
Horseshoe Mustache
A horseshoe mustache is quite noticeable when you see one. It is a full mustache that is grown down to your jawline. It gets its name, as it looks like an upside-down horseshoe on your face.
However, alongside the mustache, the chin is commonly clean-shaven. This helps to make the shape of your mustache stand out even more.
Sideburns compliment this type of mustache really well. Typically, you will see these types of facial features together on a face.
If you don't like the traditional horseshoe mustache, there is a more modern version that has been slowly gaining popularity.
The modern horseshoe mustache isn't as long. It has a much shorter length, therefore it doesn't touch your top lip and the side parts don't go as far down.
Normally, the hair will go by the corners of your mouth, but that's as far as it will go. The modern horseshoe mustache doesn't grow anywhere near your bottom lip, and definitely doesn't pass it either.
So when it comes to the horseshoe mustache, you have two options. You can either go classic, which is longer and bushier. Or you can try the modern version, which is more controlled and shorter.
The Walrus Mustache
Another classic type of mustache is the walrus mustache. It shares a few similarities with the chevron mustache due to the overall shape of the mustache.
The walrus mustache is known for being thick and having a bushy appearance. This kind of mustache isn't suited for anyone who can't grow a thick mustache, as the style won't look right. 
When you look at a walrus mustache, it will fall just past the mouth. Therefore, your mouth is generally hidden by the mustache, thus you need to be careful when eating with this kind of mustache. Largely, you will see older men sporting the walrus mustache. 
However, anyone with a large face will look great with the walrus mustache. This mustache is all about confidence.
You need the confidence to just let the mustache hair continue to grow until it has reached past your mouth before you even begin to think about trimming it. 
The walrus mustache does take a lot of work, as it has to be combed every day, otherwise, it won't keep its shape. Also, trimming the mustache is only done at a minimum because this style is all about the length. 
If you like the look of the walrus but aren't convinced of the length, then there is a baby walrus option. The baby walrus mustache is a great choice if you're not convinced yet to go full walrus.
The baby walrus is much shorter in length and is also trimmed at the sides. It is a much cleaner look and is more refined, yet it still has all the typical walrus characteristics. 
The Chevron Mustache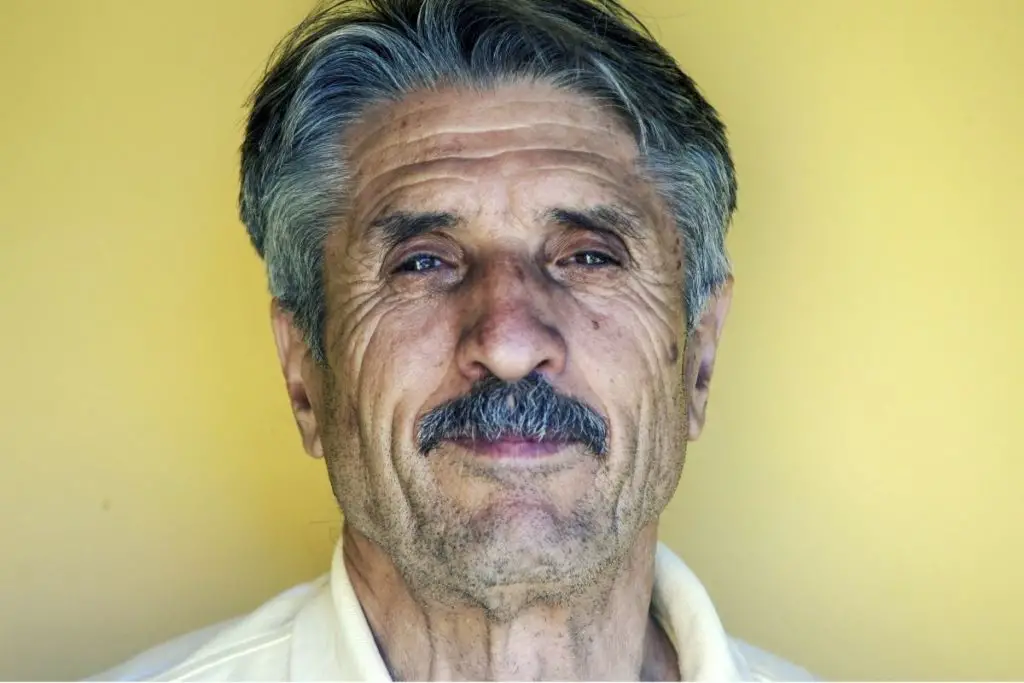 The Chevron mustache is another type of thick mustache. This kind of mustache is shaped at an angle towards the corners of your mouth.
The bottom edge of this mustache should stop just above your top lip at the corners. Consequently, you will need to trim and care for the chevron mustache, to keep its shape and angle. 
You will see some men pair this mustache with a goatee. This creates a boxy kind of look that is very popular among celebrities. 
The Tom Selleck Mustache
Tom Selleck is known for his thick and attractive mustache. The type of mustache is very similar to the Chevron. The famous Tome Selleck mustache needs around 4 to 5 months to grow correctly.
Your mustache should be thick with coarse hair with a slight curl at the ends. 
If you grow too much or too little curl, then this can affect the final outcome of the Tom Selleck mustache as well. As you spend so long growing this type of mustache, you should want to look after it so all your hard work wasn't for nothing. 
The Comb Mustache
The Comb mustache has a close resemblance to the Tom Selleck Mustache. What makes this type of mustache different is that this mustache is much more rounded on the edges.
Alongside that, the corners turn downwards towards the corners of your mouth. It is a much softer look compared to the Tom Selleck mustache, but it still gives a great impression. 
Pencil Mustache
The Pencil Mustache takes a lot of effort to keep it looking fabulous. When it comes to the pencil mustache, the mustache passes through the upper lip, in an even and straight line.
You can have a thick pencil mustache, or it can be thin, that is your choice. Commonly, you will have seen thin pencil mustaches. 
A very classy mustache, that makes you think about men years ago drinking martinis. What you wear with this mustache will showcase whether it is suited for you or not. It is more suited to men with round or square faces.
However, it is important to maintain and care for this type of mustache. It does take a bit more effort to keep its distinctive look.
As there are so few hairs, you will be really particular in how you want it to look, and you will be trimming every last hair to make sure it looks perfect.
Thus, if you find it difficult to care for and maintain a mustache, you may want to rethink growing a pencil mustache.
The Thin Mustache 
The Thin Mustache is quite similar to the Pencil Mustache. The Thin mustache is typically worn by a lot of younger males, especially those of working age.
This type of mustache follows the angles and shape of your face and top lip. 
You need to care for and maintain this mustache daily. This is so you can keep the lines sharp and distinct. 
The Fu Manchu Mustache
The Fu Manchu is a very iconic and recognizable mustache. You may have seen these mustaches on film or TV and not know the name of it. However, you may not remember the name, yet whenever you see this mustache you'll recognize it. 
Typically, the Fu Manchu mustache is a full mustache that is grown very long and straight. The strands on either side of the mustache are grown until they reach past the wearer's chin.
The longer the strands are, the better with this style. However, you don't want the ends to become wispy, so you will need to regularly trim the ends. 
To begin with, this style looks like the horseshoe mustache, and that just means you need to keep growing the ends.
Men with oval or diamond-shaped faces suit this style better than others. The rest of your face should be shaved so that the sole focus is on the mustache itself. 
The Toothbrush Mustache
The Toothbrush mustache has a very minimal style and appearance. It became a very popular mustache choice in the late 19th and early 20th centuries. With Charlie Chaplin being known as the advocate for this type of mustache. 
It can be mistaken for the Lampshade mustache, yet what separates these two apart is that the toothbrush mustache keeps its straight and vertical lines.
Generally, the toothbrush mustache is quite small and doesn't extend far past the nose. While the lampshade mustache extended to the corners of the mouth. 
The Shadow Mustache
If you don't want a mustache that stands out, then this type may be more suitable for you. This is where the skin is still dark from where your mustache would have been after shaving.
One of the easiest types to take care of, it all depends on how long your facial hair takes to grow. A lot of celebrities favor this type of mustache due to its simplicity and ease of care and maintenance.
The Stubble Mustache
The Stubble mustache is exactly as it sounds; it is easy and fast to grow and maintain. Also, recently it has become quite a popular mustache choice.
If you have extremely curly hair, then this type of mustache may be a suitable choice for you as it is easy to control. 
Salvador Dalí Mustache
Obviously, this mustache is named after the popular and famous artist Salvador Dalí. This mustache will take a lot of time to grow and train the ends.
You want the ends of this mustache to grow quite long so that you can play with them. The ends are normally twisted and point upwards. The length of the ends is what gives this mustache its noticeable appearance.
The English Mustache
When it comes to the English mustache, you need to be serious about your mustache game. Your mustache has grown quite thick, and it begins in the middle of your upper lip.
The mustache is grown quite long, and the ends are pulled to one side and curled slightly. The ends can be slightly pointed upwards, but the mustache itself is generally quite straightforward. 
This type of mustache needs regular care so that you can maintain the shape you have created. Alongside that, it is suggested that the tips of the mustache are waxed, to make them stand out.
Also, you will notice that this mustache can be any length, but mostly, it is either a medium to long length. However, some people do like the short version as well. 
General Ambrose Burnside Mustache
The General Ambrose Burnside mustache is very rarely seen nowadays. Burnside is now referred to today as sideburns.
However, with this mustache, it grows naturally, and the end result should be the mustache and sideburns connecting together.
Thus, the hair from your ears to your nose and mustache should all be connected and look as one. 
Alongside this, this type of mustache is typically supported with a clean-shaven chin.
This was once a very popular style but has recently fallen out of fashion, yet that doesn't mean you see if this style works for you.
It has to be said that because the chin is clean-shaven, you do need a strong chin to help support this mustache look. 
Sloping Beard And Mustache Combination
For anyone with a small face, growing a thick sloping beard and mustache will make your overall face look longer.
This style looks great when it's left wild, so perfect for anyone who isn't the best at caring and maintaining a beard.
However, some places of work don't like the look of messy mustaches and beards. In this scenario, you can trim the beard close to your face and leave the mustache as it is.
This is considered a very manly look, and ideal for someone who wants to extend their face.
How To Grow A Mustache
It may seem like common sense, but for those of you who haven't tried growing longer facial hair before, have patience.
With all of these types of mustaches you need to have patience, as unfortunately, your mustache won't grow overnight. 
You want to grow a thick and full mustache that looks impressive. As a result, growing a mustache is a commitment, it may look like nothing is working for a while.
Or it may not be pleasing, depending on the style you are going for. However, if you give it time and are committed, eventually you will be able to grow a mustache that you are proud of. 
An easy way to start growing a mustache is to let all of your facial hair grow out for a bit. This will let your mustache grow thicker alongside the rest of the hair on your face.
This is why what you are doing looks more natural. Otherwise, it may look strange when you are only just growing your mustache out, and sometimes it can reach that awkward stage where it doesn't know what it is doing. 
If you are only growing your mustache out, then what is happening to your mustache is a lot more noticeable. Therefore, allowing all your facial hair to grow out while your mustache is getting thicker is the ideal choice to do.
Once you feel that your beard is becoming thicker, this is the time to shave your face and leave your mustache. Once your beard has become thicker, then you can be assured that so has your mustache. 
There are a couple of things that you can do to prompt your facial hair to grow quicker. Vitamins and minerals that you consume as part of your diet are important for stimulating hair growth.
Also, beard oils are full of vitamins such as vitamin A, B, C, and E, and biotin. All of these will help to nourish and strengthen your hair follicles.
This then promotes thick and strong hair growth. Alongside that, keeping yourself hydrated will also help you to promote quick hair growth.
As you can see, there are a lot of things that you can do to grow a healthy mustache. It is all about time and the effort that you put in. 
How To Look After Your Mustache
Now that we have gone through the most awesome types of mustaches that you can grow and try for yourself. We felt that it was essential to give you some tips on how to look after and care for your mustache.
Like other parts of our body, your mustache also needs some love and attention sometimes. 
You may choose the best-looking mustache for you, yet if you struggle to care for and maintain it, then there is no point in having it.
As a result, once you have selected an awesome-looking mustache to grow, you need to know how to look after them properly.
Cleaned And Scrubbed
Just like any hair, including beard hair, your mustache needs to be cleaned as well. You can clean your mustache, just like how you clean your beard (if you have a beard). Your normal activities can lead to a buildup of oil and dirt. 
If you don't remove this oil or dirt, then this can cause bacteria to form, which would then result in an unpleasant smell. As a result, by remembering to wash your mustache, you can avoid this problem. 
Trim Or Shave
As you can see in our list before, some mustaches are a bit more complex than others. Thus, to maintain and care for your mustache, you need to have the right tools.
Either a trustworthy trimmer or scissors to help keep the shape and length of your mustache. 
Some of these styles work better alone, while others work better with a beard. However, no matter what style you go with, you need to be precise.
Sometimes a messy mustache looks good depending on the style, yet with most of the ones we have mentioned, it needs to be clean and trimmed.
Some men enjoy taking their time with their mustache to care for it and trim it to perfection.
Once you have spent weeks and even months growing your mustache and styling it how you like. Then you need to keep regularly trimming it to maintain the appearance that you want to achieve.
How often you trim your mustache can differ from person to person. It really depends on how quickly your hair grows and what length you want your facial hair to be.
However, some men will trim their mustaches once a week to keep them neat and tidy. 
It is really easy to trim your mustache hair. As the hairs are quite coarse and thick, it is advised that you soften the hair before you trim them.
This way you can easily trim your mustache easily and comfortably. Shampooing and conditioning your facial hair is a great tip, as it'll make your mustache hair smooth yet glossy for trimming. 
Hydrate Your Skin
Moisturizing isn't just for females, and it is a known fact that facial hair draws moisture out from your skin. This can lead to dry skin and flaky areas of skin that can be within your mustache.
As a result, we would suggest using a moisturizer just for your mustache and/or beard. This way, you will put the lost moisture back into the skin that you have lost due to your mustache.
Thus giving that area an overall more pleasant appearance.
Brush Your Mustache
As we have spoken about, your normal day-to-day activities could cause oils and dirt to form. By brushing your mustache, you are pushing away any dry skin or debris that may have formed or got stuck in your mustache.
Either brushing or combing your facial every day will ensure that not only your mustache looks good. Yet, it also makes sure that your mustache is clean, so no bacteria can form. 
Shaping and Waxing
With some of the mustache styles we have spoken about, you will have seen us talking about waxing certain areas.
We can't deny that waxing and styling involves a bit of work and effort. Therefore, if this isn't your kind of thing, then you can skip over this bit. 
However, by adding wax to your mustache, you are ensuring that your mustache stays in place. So the hairs' can stay in the style you have put it in, and it will look tidy.
Typically, the wax will be added to the ends of the mustache to keep them looking neat and tidy. If you curl the ends, then the wax will keep those curls in place.
However, by using wax, you need to remember to clean your mustache afterward. The wax will keep everything in place, but more dirt or debris could stick to it as well.
You may not use that much wax, but it is important to clean it out at the end of the day. Then you can reapply the wax the next day fresh.
What Type Of Mustache Should You Grow
We have given you a lot of awesome types of mustaches that you could try to grow for yourself.
Yet, you may still be unsure what mustache would suit you the best. This all comes down to personal preference and a couple of other factors.
If you like a certain mustache type, then you should try it. However, be warned that some styles are more suited to particular face shapes than others.
Anyone can wear the majority of mustache types. Although, certain ones are better suited to certain face shapes.
As a result, we would say that you need to become aware of your own face shape and see what mustache types suit that face shape.
This way, you won't waste any time or effort on a mustache style that doesn't suit your face. 
It's not always easy to know what will suit your face. Although, as long as you think about your face shape and how that will be affected by the mustache, this should help you make a decision.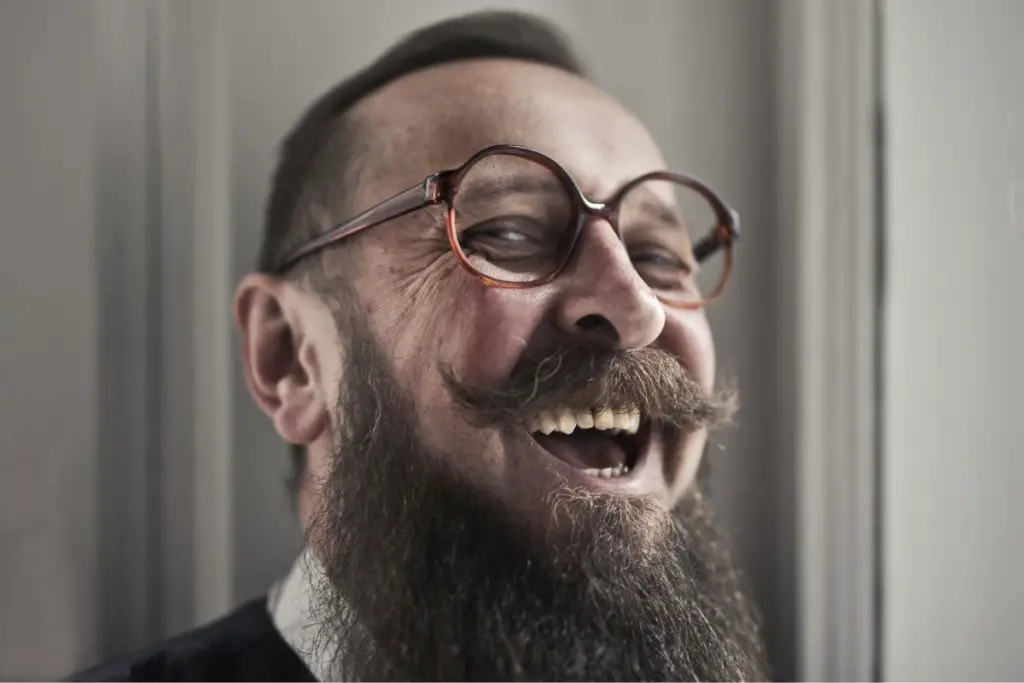 Alongside that, we would also think about the type of mustache you are going for and whether it is suitable for your place of work.
We wanted to bring this to your attention, as not every mustache type is suitable for every place of work. 
Some places of work want their employees to look smart, therefore some of the wild or scruffy mustache types may not be suitable here.
The majority of mustache styles we have mentioned in this article can be trimmed and tidied up if they are messy. However, some are enjoyed for their wildness, therefore you need to think about this as well. 
Overall, you need to think about which styles of mustache you like the look of. Whether that is thin or thick, long or short, straight or curled.
You also need to be aware of how much attention the mustache style you have chosen needs. If you don't have much time, then you shouldn't be selecting a mustache that requires daily maintenance. 
It may seem silly as it's just a mustache, but you need to think about all of these things. This will then help you narrow down your choices when choosing what style of mustache you want to grow. 
Final Thoughts
A lot of men have always wanted to sport a mustache but do not know what type of mustache to go for. In this article, we have given you a list of the most awesome types of mustaches that you ought to try. 
Anyway, you can pull off a mustache. It all depends on your personal preference and how much time you have to look after your mustache.
Some of the mustaches we have mentioned do require some care and attention, yet the end results are definitely worth it. While other types are much more free and wild.
Anyone can try any of these mustaches, and they will be surprised to find out which ones they like compared to others.
We have also given you some tips on how to look after your chosen mustache. You should have now picked out your new mustache type to try.
Also, you know how to properly look after your chosen new mustache so that it will continue to look amazing on your face.
Last update on 2023-06-01 / Affiliate links / Images from Amazon Product Advertising API