You have tried various shaving creams, but their chemicals have caused your skin to break out and itch. That has you contemplating going the natural way and using products made from organic compounds. 
We have some great alternatives for shaving cream. They have a range of natural ingredients that will allow you to have a great shave. Also, your skin will look and feel amazing. 
Here we will run you through a range of the more popular compounds used in natural shaving creams. You will discover the benefits these offer you. Oh, and there are several recipes you can try. 
Ready to get back to nature and have it bless your skin?
Can You Make Shaving Cream?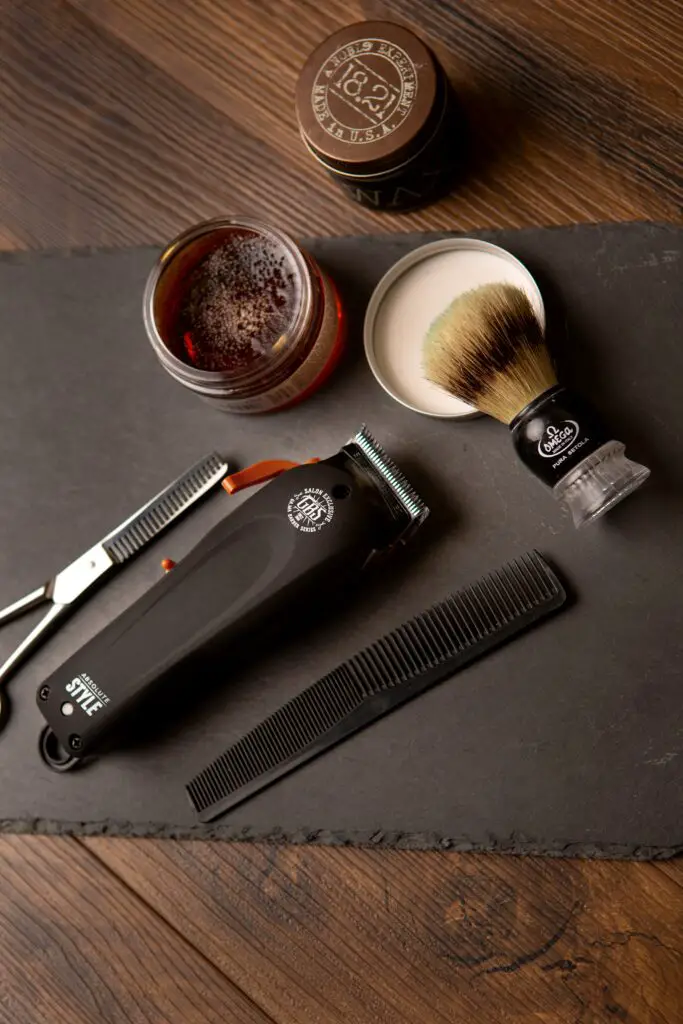 Yes, you can make your own shaving cream. Doing so allows you to customize the cream to suit your skincare needs. 
The main way shaving cream is made is by heating the main ingredients together in a kettle. In non-natural creams, these ingredients are steric acid, lanolin, and polyoxyethylene sorbitan monostearate. 
These components are heated at around 179 to 188 degrees Fahrenheit (80 to 85 degrees Celsius). Then they are cooled off to approximately 152 degrees Fahrenheit (65 degrees Celsius).
The rest of the ingredients needed to create the shaving cream are mixed into this solution. The final part of the process is to force the cream through a screen to remove any lumps and debris from the product.
That's a simplified view of how your shaving cream is made. You will use a similar process when you make your cream from the recipes we will give you.
What Is Natural Shaving Cream?
Natural shaving cream is made using plant-based and other organic materials. There are no nasty chemicals contained within the cream. I always seek out the natural alternative for shaving cream.
The most popular items in many natural shaving creams are shea butter, coconut oil, aloe vera, jojoba, and honey. You may find creams that contain different ingredients than these. That's the great thing about nature, it provides such versatility. 
Here is a brief rundown of what each ingredient in the natural alternative to shaving cream's offer.
Coconut oil
Thanks to the fatty acids within coconut oil, it is a great natural moisturizer. If your skin is susceptible to inflammation, using this oil will help reduce the problem. 
It also repairs the barrier of your skin so that any water is prevented from leaving the skin. That will have your skin feeling soft and supple. 
Jojoba oil
One of the many benefits of Jojoba oil is that it attracts water to your skin. A must for anyone who suffers from dry skin or beard dandruff! 
If you have any type of skin allergy, jojoba oil is hypoallergenic. It is rare for those using this oil to react to it. 
Aloe Vera
You can use this either as part of your shaving cream ingredients or as a stand-alone moisturizer after your shave. Aloe vera is easily absorbed into the skin, where it creates a natural seal to trap water. 
Grapeseed oil
Here you have a natural source of Vitamins E and C, which help to preserve your skin. 
Grapeseed oil also works to keep your skin soft and elastic. Talk about retaining your youthful appearance and having a good shave.
Almond oil
With almond oil, you have another option for dry skin, especially if you have psoriasis or eczema. Vitamin A within the oil helps with the creation of new skin. 
If you are concerned about your complexion, then almond oil is worth a try as it boosts this.
Essential oils for men
You want your natural homemade shaving cream to have some type of fragrance; that's where essential oils come into the picture. However, some of these essential oils are better at preventing your skin from drying out than others.
To keep your skin well moisturized, any of these essential oils for men will help:
Best essential oil scents for men.
Lavender
Helichrysum
Geranium
Frankincense
Myrrh
Sandalwood
Manuka
Ylang Ylang
If you have nut allergies, check your natural shaving cream's ingredients.
Be careful if you have nut allergies. Coconut oil and almond oil have a lot going for them as natural ingredients for shaving cream. However, if you have an allergy to nuts or nut-based products, substitute these oils. 
Use alternative oils when you make a natural homemade shaving cream, such as avocado oil, jojoba oil, argan oil, or sunflower oil.
Why Should You Use A Natural Shaving Cream?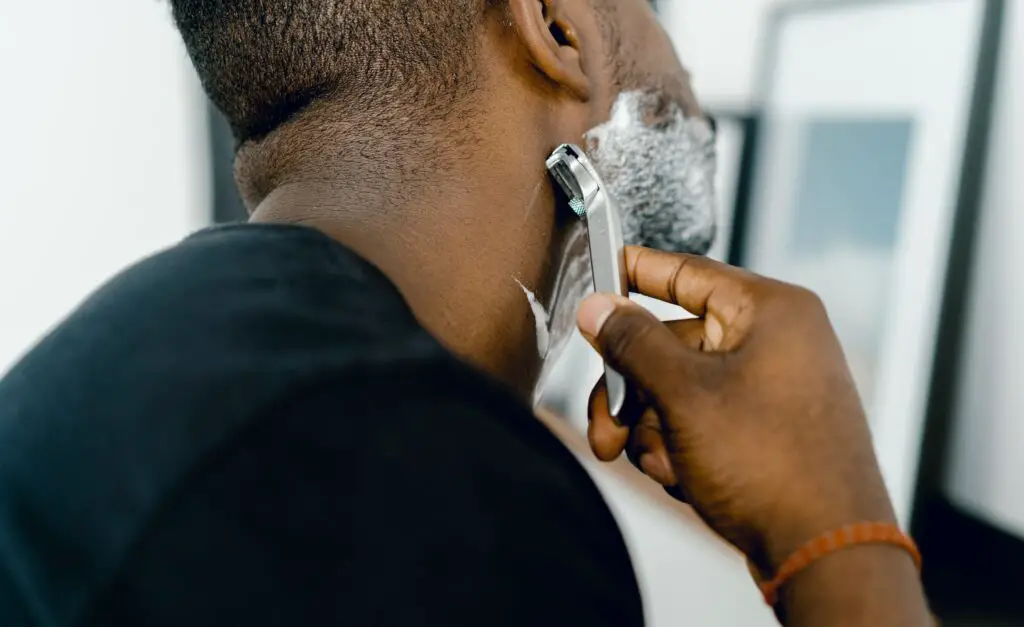 Natural shaving creams provide your skin with protection and act as a moisturizer. This makes them a better option for those of you who have sensitive skin. The components you use to create your natural shaving cream contain antioxidant and antibacterial properties. 
The chemicals in non-natural shaving products can irritate your skin, increasing the risk of razor burn. On top of that, they have the potential to dry out your skin, leaving it flaky and itchy.
In the previous section, we also saw how natural ingredients help to keep your skin moisturized, soft, and supple. 
With so many benefits, you may be wondering why you haven't gone natural before. We dunno the answer to that question. However, the good news is that it's never too late. 
How To Make a Natural Homemade Shaving Cream Without Shea Butter
Shea butter is a great moisturizer. It also has a lot of antioxidants that promote skin health and anti-aging. 
Oh, shea butter also is an anti-inflammatory that alleviates any skin problems you may have. Prone to acne or other skin breakouts? Shea butter will come to the rescue. 
Yet, with all that's going for it, shea butter does have a weak spot. It is made from shea tree seeds. These seeds are nuts (not in the crazy sense, but the literal meaning of the word).
That is an "uh-oh" moment for people with nut allergies. If you have this type of allergy, shea butter (like coconut oil and almond oil) should be avoided when making shaving cream.
So how can you make shaving cream without shea butter? After all, it's the shea butter that gives the cream its texture. 
You can swap out the shea butter with mango butter or Sal butter. These provide a similar finish to the shaving cream. That is, you will have a product that still feels soft and silky, but without the nasty nut allergy issue. 
How Do I Make Natural Shaving Cream?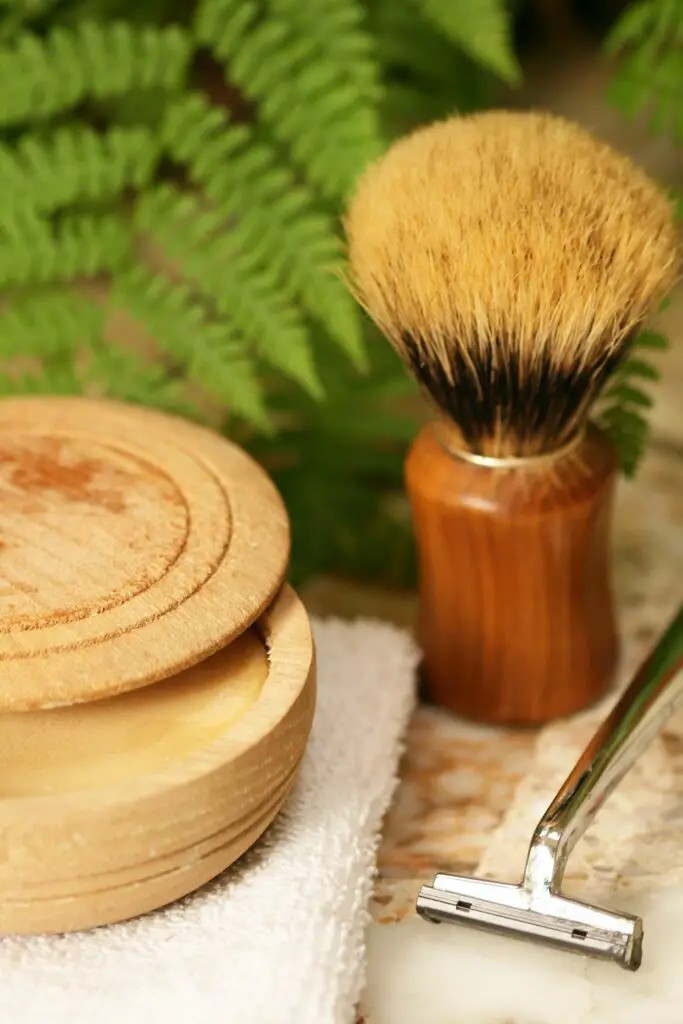 Making your own homemade natural shaving cream may seem daunting, but it's easier. You may be surprised at the simplicity of the process and decide to turn it into a side business (if you want to!). 
Chefs in any kitchen like to tweak other people's recipes and invent their own creations. It's the same when you are making shaving cream. Use the recipes as a guideline. 
Don't be scared to deviate from the ingredients and replace them with something else. First, research the natural products you are thinking of using (it's like a chef tasting as they are cooking to see if the dish is tasty or needs "something else").
Ready to try your hand at creating your shaving cream? Here are some base recipes for you to try out. 
1. DIY Aloe Gel Natural Alternative Shaving Cream
A simple concoction that uses aloe gel as its base, along with a dash of almond oil. A very nousturing alternative to shaving cream. Your skin will thank you for it.
Ingredients:
Aloe Vera gel
Liquid castile soap
Almond oil
Filtered water
Essential oil
Instructions:
Take a bowl and mix a ¼ cup of aloe gel and a similar measure of liquid soap.
Stir and then add  2 tbsp of almond oil and ½ cup of filtered water. 
Stir everything one more time.
Finally, add around ten drops of your favorite essential oil.
Give the mixture one more stir, then pour it into a foam pump.
2. DIY Natural Shaving Cream Without Coconut Oil
For those who want to avoid coconut oil, here is a recipe right up your alley. 
Ingredients:
Sunflower oil
Baking soda
Cocoa butter or mango butter
Aloe vera gel
Essential oil
Instructions:
Get a pot and place a ¼  cup of sunflower oil and 2  tbsp of cocoa (or mango) butter into it. 
Put the pot on the stove over low heat. Melt the oil and butter.
Grab a food processor/blender. In this, combine a ¼ cup of aloe gel, 2 tsp of baking soda, and 2 tbsp of castile soap. Add 10 to 12 drops of your essential oil. Blend these items thoroughly. 
Pour the contents of your processor/blender into the pot containing your oil and butter. Stir everything vigorously so that it makes a thick liquid. 
Pour your newly created shaving cream into a soap dispenser. 
3. Almond Oil And Honey Natural Homemade Shaving Cream
The good thing about honey is that it is a natural preservative. So you will have a shaving cream that should last you for a good few months. 
Ingredients:
Almond oil
Honey
Cocoa butter
Raw honey
Warm water
Instructions:
Melt ¼ cup of cocoa butter and then pour it into a glass bowl (big enough to contain all the ingredients). 
Place the bowl into a saucepan of warm water. This will help melt the other ingredients when you add them. 
In the cup containing the butter, add ½ cup of almond oil, ¼ cup of castile soap, and ¼ cup of honey. Also, add ten drops of essential oil. Stir everything until melted.
Pour the contents of the bowl into a 16oz foam dispenser. Add water to top up the dispenser. 
4. Easy Homemade Shaving Cream Recipe
Maybe you're busy but still want to make your natural shaving cream. Yet, time isn't on your side. Don't fret. Here is a quick, easy and simple recipe for you to try. This is our easist and a perfect beginner alternative to shaving cream recipe.
Ingredients:
Soap (non-castile)
Coconut oil (replace with an alternative if you have a nut allergy)
Water
Essential oil
Instructions:
Place a saucepan onto your stove over low heat. Pour in 1 cup of water and then shave in 1oz of soap. Stir until the soap has melted. 
Take the pan off the oven. 
Add 2 tbsp of coconut oil and ten drops of your essential oil. 
Stir everything together thoroughly. 
Pour the mixture into a foam pump. 
5. A Homemade Lotion Natural Shaving Cream
Give your face and whiskers some TLC with this recipe. It will not only add moisture to the skin but will also form a barrier to trap the water. It's another homemade and natural shaving cream that is quick and simple to make. 
Ingredients:
Shea butter
Almond oil
Essential oil
Instructions:
Get a bowl and place ½ cup of shea butter into it. Whisk the butter until it is soft and creamy. 
While whisking your shea butter, slowly add ⅓ cup of almond oil. The oil needs to be melted beforehand.
Add ten drops of your essential oil to the mix and whisk thoroughly. 
Pour your mixture into a foam pump.
How long does natural shaving cream last?
Usually, natural shaving cream has a shelf life of around three months. Not very long when you compare it with those chemically based commercial shaving creams. The reason for this is that natural shaving cream alternatives don't contain any preservatives. 
However, your skin will feel and look amazing thanks to all the goodness contained within natural shaving creams. What goodness? Antioxidants and antimicrobials!
Shave Butter is a Good Natural Shave Cream Alternative
So which is better, shaving butter or shaving cream? Shave butter is commonly used as a natural shave cream alternative. It is thick and provides a very soothing shave, even better than a natural shaving cream. We shared our favorite shave butter recipes and a lot of other helpful info about shave butter in a more detailed article.
Best Natural Homemade Alternatives for Shaving Cream Recipes
If you have sensitive skin, using shaving creams derived from natural sources is worth considering. Typically the chemicals in non-natural shaving creams cause skin irritations, rashes, and break-outs. 
By switching to natural alternatives, your skin is protected. That's because ingredients such as aloe vera, jojoba, and coconut oil contain antioxidants. This helps soothe the skin, rejuvenate it and make it softer and more elastic. They offer a barrier on your skin in which water is retained. 
It's not difficult to make your own natural homemade shaving cream. With only a handful of ingredients, you will be able to create a shaving cream alternative that you will be proud of. A cream that makes shaving a more pleasurable experience. 
Feel free to mix and match ingredients to create a unique natural shaving cream that meets your needs. After all, we are all different.  
It's fun to make your own homemade shaving creams. You can experiment with different manly scents. Also, you will experience an incredible shave like none before. There is something special about a natural alternative for shaving cream you can make at home.
Consider if shaving butter is better than shaving cream for you. Also, check out our favorite shaving butter recipes you can make at home.
Latest posts by Beardition Team Contributor
(see all)