Beards can improve your look and can certainly impact how others perceive you. Studies have shown that men look better with beards and look more attractive with them, and there are the best beard styles for bald guys. There's the little problem of maintaining it, though. But when you keep a well-trimmed beard (and many styles you can try), you'll likely start feeling better about yourself.
Many celebrities over the years have made themselves stand out with their signature beard. This has grown in the music, film, and entertainment industry such that there are famous bald celebrities with unique beard signature. So, if you are going bald, it may be time to embrace it.
If you're experiencing hair loss, as every man would sooner or later, you may toy with the idea of getting rid of all the hair altogether. Many men dread how their hair looks when going bald, so they eventually choose to go fully bald. The problem with becoming fully bald is picking a beard style that complements your head, especially as you have no hair.
But before we go on, let's look at why you should keep a beard when adjusting to going bald.
Why Should You Keep A Beard When Going Bald?
1.    Beards complement baldness
Beards complement your look when you lose the hair on your head. Sometimes, you still have lots of hair on your head, but you don't like how it looks, so you shave it all off. However, the beard often continues to grow.
As you soon discover, the beard can make your hair loss a blessing. So well does this work that some people deliberately shave off the hair on their head, even when not bald, to rock the look. The best beards for shaved heads also work for bald heads. It is even common, as you will soon see, with many famous bald celebrities with a beard.
2.    Hair loss doesn't affect beards.
Again, when dealing with hair loss on your head, your beard is spared. This means you have lots of hair to toy with. So, what are you going to do with it? Many celebrities have given us ideas on keeping beards even when bald. You can make an excellent fashion statement that will significantly improve your look. It works.
3.    It improves the look of masculinity.
You only know your best masculine look once you try a beard beneath a bald head. If you've always wanted that sharp, crisp look of masculinity, don't throw the baby of your beard away with the bathwater of your hair loss.
Many famous bald celebrities with a beard, like Jason Statham, have made this apparent.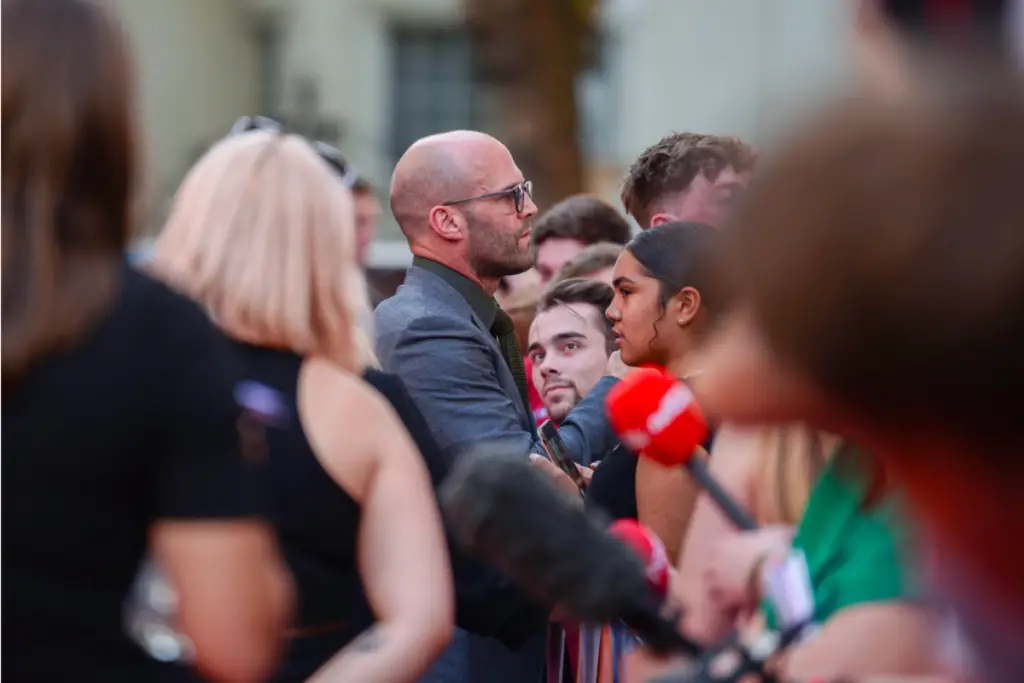 4.    You can change your look with different styles.
Talking about fashion, going bald is no longer something you should be worried about. You can now improve your look with different rocking beard styles. If you're open to ideas, we have some styles that you can try. And why not? Let's be honest; you've got nothing to lose!
Let's now look at some exciting beard styles you can rock. Some of them are not peculiar to bald guys alone. But remember, once you begin to go bald, how your beard looks becomes more pronounced.
Types of Beards
Wondering what is the best beard style to rock a bald head? Look no further as we will explore various beard styles rocked by famous bald celebrities with a beard.
●    Full-bodied beard
A full-bodied beard works best for fully bald people. If there's no hair on the head, the head looks smaller than it typically is, and the person looks smaller. You can counter that with a full-bodied, round beard.
This contrasts sharply with the head and makes your face appear fuller. If you want to take full advantage of your hair loss, go for this option. However, because of its size, it requires trimming and care. If you're not willing to trim it often, you can go for the slightly shaggy option, which you trim only once a week.
To grow a full-bodied beard, you'll need to let it grow for between a month and six weeks and endure some itching until it grows to its full length before you trim it.
●    Stubble Beard
Stubble is a very common beard style amongst different types of men, bald or not. Many famous bald celebrities with a beard stand out with a stubble beard. This beard style is like a person aiming for a full beard and suddenly stops growing the hair after three days.
Most times, the stubble is allowed to rhyme with the level of hair on the head for those who are not bald. If some hair is left on the sides of the head, the stubble beard blends perfectly with its length. There are, however, different variants of the stubble.
For instance, the stubble goatee is a beard in which the hair in the goatee area is slightly more pronounced than the rest of the cheeks.
●    Goatee Beard
Lots of people believe this beard style provides the ultimate manly look. The goatee is very easy to maintain and is one of the best beards for bald heads.
 Let the hair grow on the chin and let very little hair remain in the mustache and connect them. For some men, they restrict hair to the chin alone. How much hair is left on the chin depends on how pronounced you want your goatee to be. For example, if you want a slightly pointed goatee, you allow more hair on the chin.
You can go for the classic chin cover in which the hair fills all parts of the chin up to just beneath the lower lip. Also, you can consider the more aggressive swashbuckler in which a handlebar mustache sits comfortably above the goatee. This style is ideal for bald and non-bald men.
●    Mustache
Is the mustache a beard? Well, not technically, but it can be rocked to change your style! If you have no hair on your head and want a minimalist approach to keeping your face well, you can try a mustache.
It is a moderately popular style, so you can try it to see if you want to go with it. If you want to keep your mustache pronounced, ensure your beard is well-shaved to blend with the head. You should also ensure that the mustache is well-trimmed and never bushy.
●    Bushy Beard
Not everyone has a thick, full beard, but you can try a bushy beard if you do. A bushy beard is ideal for bald people who want to describe how well their beard grows boldly. It takes a lot of time to develop a bushy beard and requires lots of trimming.
Depending on how you like it, you may limit the bushy beard to the chin and cheeks or move them up to the ear level as many famous bald celebrities with a beard have it. However, it only sometimes fits a professional setting, although it could be attractive.
●    Connecting Beard
What are connecting beards? You develop it when the goatee connects with the mustache and the rest of the beard by careful trimming. The beauty of this beard depends on how well it can be trimmed. Sometimes the beard lines along the cheek lines are thin, and sometimes are broad.
If you don't have time to keep trimming the beard, then there will be no need to start at all. When lined beards aren't well trimmed, you seamlessly graduate to full beards.
Famous Bald Celebrities With A Beard
Here's a list of some famous bald celebrities with a beard. Some of them are completely bald, while others are not.
Jason Statham is very famous for his stubble beard. His stubble blends perfectly with the hair on his head. Jason is not completely bald and has some hair on the sides of his head.
Andre Agassi is perhaps one of the most accomplished tennis players in the world. His unique signature – the goatee with stubble combination gives him a fine gentleman look, which is the new normal for bald men.
Terry Crews is known for his goatee, which is his distinguishing feature. Terry Crews maintains an entirely bald head and his goatee perfectly blends with his face.
Rick Ross is the king of line or connecting beards. Rick Ross is bald, and his full beard stands out for the clean lines connecting his chin to the cheeks and the mustache.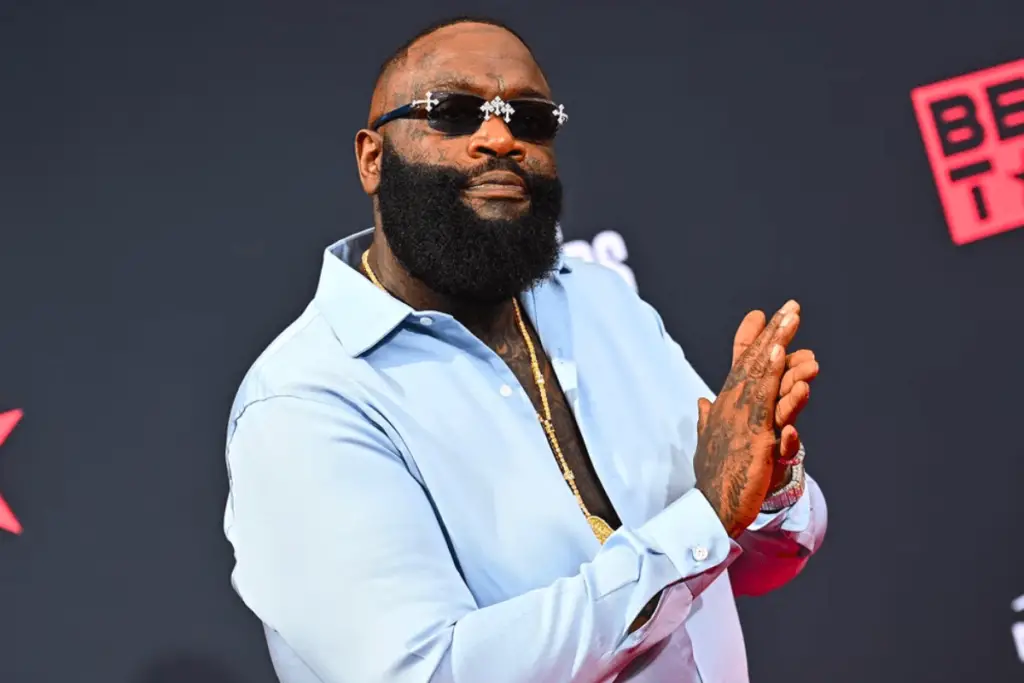 Lonnie Rashid Lynn, AKA Common: First, broke out on the scene as a rapper. Common became a prominent voice in hip-hop's new renaissance, later, Common made his transition into acting.
Common has sleek facial hair and nicely trimmed edges. He's an accomplished actor with several awards in the industry. His facial hair has a unique signature, starting young and gradually progressing into a mature look.
FAQs: Famous Bald Celebrities With A Beard
Do bald guys look handsome?
Bald guys are handsome, of course, but baldness may not be a reason for handsomeness. When a bald guy grows and maintains a beard, it often improves his masculinity and looks. So if you're losing your hair, you can use a beard to make a fashion statement.
What are beard ideas for bald guys?
Rounded beards, goatees, and stubble are the most common with which bald guys can hardly go wrong. There are several beard ideas for bald guys. But that a style fits with someone doesn't mean it will work well with another. You should look for a style that suits you and works for you.
Why do bald guys grow beards?
That hair stops growing on the head doesn't mean it stops growing elsewhere. In reality, testosterone production means that hair loss on the head triggers more growth in the beard. That is why you can do so much with the beard.
Is it challenging to keep and maintain a beard?
Keeping a beard comes with a price that you must be ready to pay. All you have to do is ensure you keep the beard well-trimmed. The trimming frequency also depends on the type of beard you are keeping.
Conclusion
If you are bald and need a bald guy's beard style, you can look at our options of famous bald guys with a beard. The best beards for bald guys depend on the individual, the shape of the head, and how well the beard grows.
Not everyone who decides to go bald suffers from hair loss, but because a beard can help improve the manly look, many people opt for shaved hair. If bald, try any of the styles highlighted above for a new, fashionable look.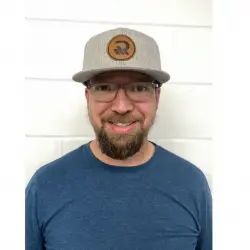 Latest posts by Doug Wells
(see all)